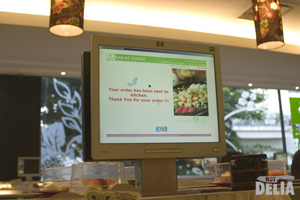 We were visiting the modern and up-market Gurney Plaza in Penang. There are lots of familiar names there – the Body Shop, Next, Dorothy Perkins, etc, and plenty of eateries too.
I suggested we could have a look at a Japanese place, Sakae Sushi. We went and looked. And it looked great! So we went in.
This place is pretty much like our usual favourite Japanese fast food chain, Fuji, which we like a lot. OK, it's a chain, it's fast food, it's inexpensive, but it's fresh, good quality, and very enjoyable.
The food was great, and on top of that the whole experience was quite fun. After our waiter, David, had shown us to our table and taken our initial order, we had the choice of helping ourselves from the conveyor belt of dishes or ordering à la carte from the menu. Each table also has a computer monitor where you can order whatever you fancy with a couple of clicks on the mouse. This is my kind of place!
The pricing structure of the conveyor belt food is clearly marked. RM 1.90 for a green plate, RM 3.90 for a pink one, and RM 5.90 for the premium dishes on the red plates.
Typically, I swooped in and grabbed a red plate before I saw the prices. "Oops, I've just picked the most expensive thing." Not to worry, even that cost less than a quid.
We also had fun ordering via their computerised system. The food was very good, but it also seemed like a fun place to be. I would go back in a shot.
Here's some of what we had.
Sakae Blossom Negi Maki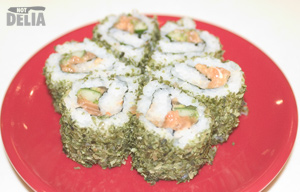 This was an innovative fusion-style nori reverse roll or uramaki (meaning the seaweed wrapping isn't on the outside, in similar fashion to the California maki roll). According to the menu description it was filled with spicy tuna and cucumber, but ours appeared to have salmon rather than tuna – we think they'd maybe run out of tuna as quite a lot of the raw tuna dishes were unavailable. Whatever, at least that means they were serving only fresh fish, and that's got to be a good thing. There was some kind of dried herbs (or maybe tea?) on the outside. Dunno what it was but it was very tasty.
Smoked salmon maki roll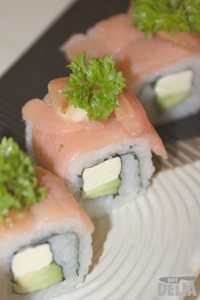 This was another uramaki roll, but had the salmon on the outside with a cream cheese and avocado filling in the middle.
(You can see more information about the various types of sushi on my sushi facts page.)


Kinoko tempura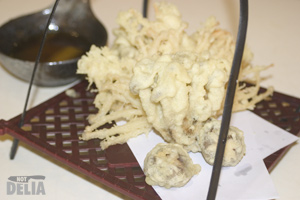 The on-screen menu described this as "Kinoko tempura – lightly battered mushrooms fried to golden perfection." The dish was elegantly presented on a kind of open basket, and came with the usual light tempura dipping sauce, which had a hint of ginger but wasn't overwhelmingly gingery. Very nice! But tempura can be a bit filling so we left this until fairly close to the end of our meal.
We also had some pan-fried scallops with sake, butter and garlic – again, excellent.
I can't speak highly enough of this place. It was clean, the staff were efficient and friendly, the ambience was good (I'm not surprised they got quite busy), and the food couldn't be faulted. This will be on my list of must-go places.
Verdict: a very strong 4 out of 5. The total bill for the food was less than a tenner for a small feast and a couple of beers each doubled that. Still, twenty quid for a couple of hours of most enjoyable eating and drinking. Great stuff!
Sakae Sushi is a Singaporean chain with several outlets across the region. You can read more about them on their website.
Go if you get the chance.