Albion, Kuala Lumpur (revisited March 2011)
31 Jalan Berangan
50200 Kuala Lumpur
Open until midnight
Closed Mondays
I visited Albion in May last year and loved it. So much so, I reviewed it as being "probably the best place to eat in KL". I was rather surprised to see some negative reviews on Trip Advisor and indeed one adverse comment on my original review of Albion here on Not Delia so I wondered if the place could really have changed so much. Time for a revisit to find out for myself.
We went back again recently and everything at Albion was superb – just as it was before.
I wonder why some others are making unpleasant comments about the place. I can think of at least three possible reasons for this:
they have a personal grudge against the owners
they are competitors and envious of Albion's success
they don't know anything about food
I have usually found Trip Advisor to be a good source of information and recommendations. That's why it's disappointing to see it spoiled by people using it in an attempt to sabotage a competitor or for some other personal reason. It makes the reviews less credible.
Sure, everyone is entitled to their opinions and I too write negative comments about some places. However, if the owner or manager subsequently contacts me in an attempt to ascertain the exact nature of the problem in an attempt to put things right, then I will jump at the chance to discuss the issues. As far as I'm aware, in every case of these negative views about Albion the disgruntled "customer" has refused to be identified or to specify what problems they encountered at the restaurant. This is a real shame because it can lead to the undeserved lowering of Albion's reputation, as well as reducing the usefulness of Trip Advisor's information.
Let's see how Albion fared on our revisit.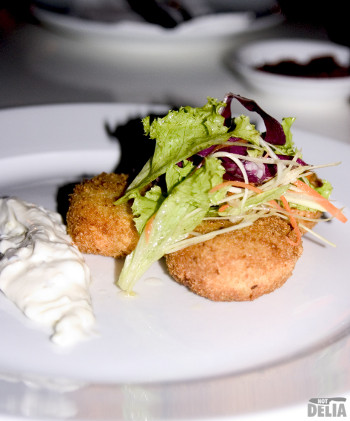 Last time we had slow roasted pork belly and steak and Guinness pudding. We decided to try something different so we would have a broader experience of the Albion menu. This time we made our notes by dictating into Mr ND's mobile phone. Our intention was to make them into an article later but, just for a change, I think it might be better just to let you eavesdrop into our conversation instead.
[Transcript starts]
Mr ND: We're at the Albion in KL again and we've just had – well, first of all to drink we've had Fuller's London Porter, which was… sublime, absolutely lovely, full of chocolatey flavour, not too heavy.
ND: Yes, it was very astute of James to recommend this to us when I was dithering about what to drink. An excellent choice and totally appropriate.
Then we had a shared starter of crabcakes. They were absolutely superb. They arrived hot, nicely shaped, lovely taste. They came with an apple and mint aïoli which seemed like a strange thing to serve with crabcakes, but in fact the whole thing went really well together. There was a little bit of salad garnish on the top with a nice citric kind of dressing, and – really, yeah, as good crabcakes as I've ever had anywhere, I would give them top marks, I would definitely have that again and would recommend that to other people.
Mr ND: So would I, they were light and crisp and melt-in-the-mouth.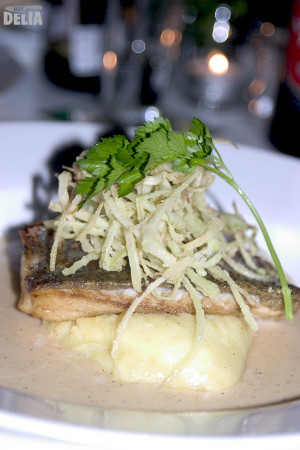 ND: I had the pan-fried seabass with colcannon mash and vanilla jus. It came topped with some slivers of crispy things and we didn't know what they were, they weren't on the menu, but we pretty much figured out that they were very upmarket, very very thin slices of what's otherwise known as onion rings! The mash was terrific but seemed to me I needed a bib so as not to spill it down my front but was really really good. The fish was superb – no smell, and the frying had been done perfectly to make the outside including the skin very crispy. Very fresh, very nicely cooked, absolutely perfect. I could smell the vanilla jus even before I started to eat the meal and it was curious and yet I do like trying new things – I'm just not really sure if I like vanilla jus with my fish. Mr ND said that he thought the sweetness of it kind of rounded off the meal a bit.
Mr ND: Yeah, I thought the vanilla did kind of round off the fish a bit. It was all lovely, I agree with everything that you've said – it wasn't so much the sweetness of the vanilla, just a generally, overall, this adds an extra dimension to it.
ND (archly): The vanillaeyness?
Mr ND: Yes, exactly. Well said.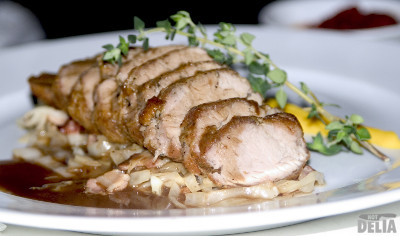 As far as my own went, the spice-coated pork tenderloin with bacon cabbage and pumpkin purée – bloody lovely. The pork was moist, beautifully tender, cut very, very easily.
And portion sizes of both were very nicely judged, I think. There's enough on the plate so that you'll be satisfied if you've got a normal-sized appetite without having to order any side dishes like chips or mash or whatever. But if you do happen to want any of those things, you can order them off the side menu and they'll go with what you've already got. You can order a single portion and you won't be daunted by the size of what appears in front of you, particularly because they've got nice big plates so that they can present everything so beautifully, but there's space on those big plates for side orders of chips or rosemary potatoes and all that stuff.
Still Mr ND (he doesn't half talk a lot): Anyway, ND's sticking with London Porter – except that now she's moved on to Hoegaarden; I've had a London Pride and I'm completing the set by having an ESB now.
[Transcript ends]
Once again, everything was excellent. After the meal James came out for a chat with us and he was as good company as ever. The ambience, staff, presentation, quality of food, menu of food and drink, personality of the proprietor, everything really, was superb. What's not to like about this place? I'm still happy to recommend Albion as being probably the best place to eat in KL.
Rating: 4½ out of 5 (again)