Tasting Tips – The New Ones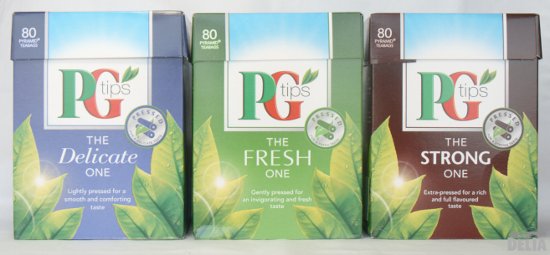 The nice people at PG tips sent me some tea and the suggestion that I might like to do a taste test. They are launching a new range of everyday drinking black teas called, appropriately enough, "The New Ones". The New Ones will be available at all major retailers from March 2011.
The range includes three teas: The Fresh One, The Strong One and The Delicate One. Here's what PG tips has to say about them:
The Fresh One

Pressed within hours of picking to give a uniquely clean, smooth, golden and fresh-tasting tea. A refreshing pick-me up.

The Strong One

A full flavour blend with extra-pressed leaves and a rich, rounded character. For those times when you need a kick start.

The Delicate One

A delicate tasting blend with lightly pressed leaves and a decaffeinated tea. A gentle, mellow cup for those moments of relaxation.
As you can see from these descriptions, they're not just different blends – they're made using slightly different pressing processes as well. And they're all Rainforest Alliance certified, too.
Both Mr ND and I are tea drinkers so we jumped at the chance of this. We had some preconceived ideas, I had thought that The Strong One sounded a bit like Assam or an English Breakfast tea. (My favourite.) The Fresh One sounded like an interesting new blend and I was curious to try it. And The Delicate One didn't really appeal so much. I expected it to be like a Darjeeling but without the zing.
Given all these preconceptions, we decided to do blind taste tests with each of us setting up the teas for the other. We sometimes do this with wines just for fun so we followed the usual procedure. You can find out more about tasting and get a free wine tasting pack here. By the way, blind tasting doesn't necessarily mean you're blindfolded, but simply that there is nothing to tell you what it is you're tasting (no labels) so you have no clues about which is which and have to use your senses to appraise and identify the different drinks.
Thus Mr ND set up three mugs of tea for me. My task was to taste, describe and guess which was which.
Here's how I got on:
I take my tea black with no sugar.
First I looked at the colour of the teas. They were very similar, although the Delicate and Strong had a reddish tinge which the Fresh lacked. This made me a little suspicious as to why it looked different. Perhaps this would turn out to be The Delicate One. (Remember that I didn't know that's what they were at the time of tasting. They were simply mugs 1, 2, and 3 to me.) None of them had any particular aroma that the others lacked. They all smelt pretty much the same. And now for the tasting itself. Here they are in order of my preference.
The Fresh One
My first thought was that it was rather bitter. But I liked it and decided that it would make a good breakfast tea. This was my favourite of the three and I guessed correctly that this was the new Fresh One.
The Delicate One
This was a surprise as it was the one I expected to like least. But having already guessed The Strong and The Fresh, if I was correct with my other guesses, then by default this must be The Delicate One. I thought it tasted a bit like an English Breakfast blend rather than a mellow afternoon tea. I found it to be nothing like its official description. This was my second-favourite. Had I not been aware that it was part decaffeinated, I would never have guessed.
The Strong One
I described this as an ordinary tea, "nothing remarkable", and guessed correctly that this was The Strong. Being fairly sure of my guess, this made it easier to subsequently guess the other two.
If I were to buy any of these teas, I would go for The Fresh One as it was just a bit different from the usual, and would make a good breakfast tea or one to help wash down a sandwich. So, hats off to PG tips for creating something new and better.
Next, we repeated the process, this time with Mr ND tasting blind.
Here's how he got on.
I take my tea with a rounded spoonful of sugar in the mug first, covered with milk, and then the teabag at the same time as the hot water. The instructions said to leave the bag for two to three minutes, so that's what I did – but I generally leave it for longer because I like it strong.

As with Not Delia, I found there was little to choose between the colours of the tea. If anything, I thought that the one that turned out to be The Strong One was slightly more honey brown, whereas the others had a reddish tinge.

One of the teas seemed to have a slightly metallic "zing" to it and to be rather on the thin and weak side for my taste. To my huge surprise, it turned out to be The Strong One – I'd assumed it must be The Delicate One.

The other two were quite similar – pleasantly bitter, although one of them seemed slightly "held back", as if it could have done with the bag being left in a bit longer to give it a chance to brew more fully. It didn't surprise me a huge amount to find that that one was The Delicate One – although, having already identified a different cup as the The Delicate One, I misidentified it as the The Fresh One.

So, by elimination, that only leaves The Fresh One – which, like Not Delia, I decided was my favourite (though I assumed it must be The Strong One). It was a fairly strong, refreshing tea with enough bitterness to give it a kick, but not over much.
You can find out more about PG tips' The New Ones here:
http://www.pgtips.co.uk/newrange/