A visit to Laurent's Café and Chocolate Bar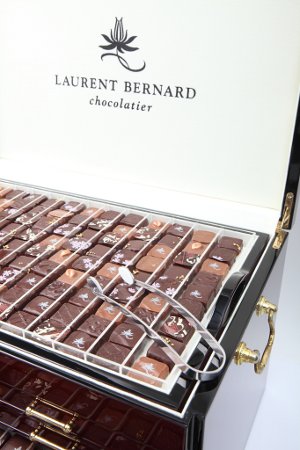 Last week we introduced you to master chocolatier Laurent Bernard, who runs a little chocolate factory and several cafés and chocolate bars in prestigious areas of Singapore. 
Now, if the idea of visiting a factory makes you think of some huge industrial area, then I've given you the wrong impression. Laurent is an artisan, not a mass-producer, so his "factory" is more like a modern and well equipped kitchen-workshop than a traditional factory.
We visited Laurent at his café in Portsdown Road, in the quiet, verdant and affluent Portsdown suburb fifteen minutes to the west of central Singapore city. This is where he actually makes his chocolates and, after enjoying a drink of Laurent's hot chocolate (the best we've ever tasted!), we were delighted to be invited into the kitchen to where the action takes place.
Laurent's kitchen looks much the same as any other clean and well-equipped commercial kitchen. The only slight difference, visually at least, is that there are some highly specialised chocolate-making machines in there, which you wouldn't normally see in most commercial kitchens.
A far more significant difference is the temperature! To produce high-quality chocolate requires very careful temperature control (as you can see from the photo to the right, where Laurent's assistant is probing the chocolate to check the temperature). However, Singapore is just one degree north of the Equator, and the climate is hot and humid all year round – which makes producing and storing chocolate of any kind very difficult, let alone high-quality chocolate like Laurent's.
The ideal temperature for storing chocolate is around 15° Celsius (60° Fahrenheit) so, as you can probably imagine, the kitchen is kept very well air-conditioned. (You can tell this just by looking – the glass doors to the kitchen are steamed up on the outside.) A stark contrast to most working kitchens, where the atmosphere is sweltering!
We had an enjoyable couple of hours with Laurent, talking about – guess what – chocolate and his work. We also spoke about the Pavilions, a luxury resort in Phuket, which was where we met Laurent in the first place. If you check out the Passions Programme calendar you'll see that there's a specialist Passions for Chocolate weekend in September 2012. The resort is a wonderful place in itself but a special chocolate weekend would be the icing on the cake!
If you can't wait until next year to find out more, then don't forget that this month (November 2011) is chocolate month on Not Delia and you can ask Laurent your chocolate-related questions here! 
If you're in Singapore, you can also visit one (or more) of his cafés. Highly recommended! You can find out more details on Laurent's website, The Chocolate Factory Online.