Three ideas for seared scallops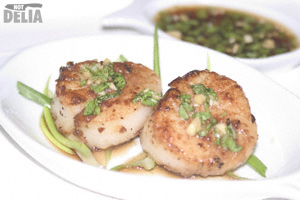 Whilst browsing Paul Johnson's A Luxury Travel Blog, I found an interesting recipe for scallops and happened to have all the necessary ingredients handy so I thought I'd give it a try.
I was a bit sceptical about serving scallops with a cream and brandy sauce, though, as I think that good scallops need little embellishment. I had six scallops so I decided to try three different versions and put them to the taste test. Needless to say, I didn't measure anything, but for the creative cook there are some ideas here which you might like to try. First, I made the scallops in the usual way by searing them in butter and garlic. Next I made an Oriental-inspired dish with a soy, ginger, garlic and coriander dipping sauce, and finally I (sort of) followed the seared scallops in a cream and brandy sauce topped with two types of caviare (the full recipe is in the link above). Here's how I got on.
Seared scallops with butter and garlic
I seasoned the two scallops with a little salt and pepper and then seared them as Ming did but added a knob of butter and some finely chopped garlic. You still need to use oil rather than just butter, because the oil has a higher smoke point than butter and if you just use butter on its own it's likely to burn very quickly.
I served these on a bed of baby herb leaves and used the two caviare garnish idea from the other recipe.
Then I wiped the pan clean and started on the next version.
Seared scallops with an Oriental-style dipping sauce
This time I seared the seasoned scallops in vegetable oil only. I made a dipping sauce in a small bowl by adding a few squirts of soy sauce, some finely chopped fresh ginger, garlic and coriander. I served this on top of spring onion cut into thin strips, drizzled some of the dipping sauce over the scallops, and served the remaining sauce on the side.
The pan needed to be washed out this time because of the pervasive smell of ginger.
Seared scallops with two caviares and a cream and brandy sauce
Again I seared the seasoned scallops but only used a little bit of oil because the recipe calls for making a cream and brandy sauce in the pan afterwards. After removing the cooked scallops, I added the brandy and flambéd it, then added the cream. It was very bland but strangely had a faint taste of coffee about it.
(Well, I thought, in for a penny… and you've got to try new things or you'll never discover anything new and wonderful. Therefore, I added a teaspoon of instant coffee. The result was a nice creamy, coffee sauce, but it was never going to complement the scallops. I knew that even before I did a little taste test. Maybe it'll be nice with ice cream, though, so all was not lost. Heston Blumenthal, eat your heart out! You invented bacon and egg ice cream, I've just invented ice cream with a scallop and coffee sauce. I cleaned the pan out and started again.)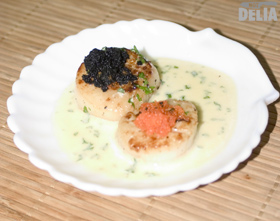 The cream and brandy sauce was still very bland – I was trying to follow instructions rather than making cream and brandy sauce in my usual way – so I tried to add a little bit of life to it with a generous handful of chopped fresh parsley. It was an improvement to the sauce but the sauce itself did nothing to enhance the scallops.
And the verdict? (Mr Not Delia and me)
Seared scallops in butter and garlic in the usual way – good, as usual.
Seared scallops Oriental-style – wow! A nice new twist and definitely something we'd have again.
Seared scallops garnished with two caviares placed on a cream and brandy sauce – nah, the ingredients just didn't seem to work together. Thumbs down for this one. (Sorry, Paul.)