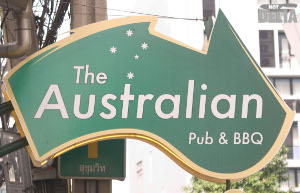 37 Sukhumvit Soi 11
Wattana
BANGKOK 10110
We staggered out of our room on New Year's Day ready to face the world, or at least a decent meal and a hair of the dog. We'd spotted a new Aussie pub and restaurant (new for us, anyway) just a couple of hundred metres up Bangkok's Sukhumvit Soi 11, where we were staying, so we decided to give it a try.
As we approached, Mr Not Delia was delighted to see a sign for Cooper's beer and even more delighted to see that the sign wasn't just there for effect and Coopers was genuinely available. He chose the pale ale – the sparkling ale and stout were also on offer.
I saw that they had draught Stowford cider, something I'd never heard of. I like cider, but only when it's dry, so I asked for a taster. It took a little while to get the waitress to understand what I meant, but in the end she brought a small wine glass of it rather than the tiny drop I was asking for. It was dry enough and refreshing on a warm Bangkok afternoon, so I ordered a schooner (425ml) rather than a glass (200ml).
(Apparently Stowford is simply Weston's under a different name. You live and learn.)
The food menu looked promising too. Mr ND fancied a proper breakfast (maybe still harking back to the one he missed out on in Shenanigans in Penang) so ordered the Drover's Breakfast. I liked the sound of fish and chips so decided to give it a try. The waitress asked me if I wanted the salad (as described on the menu) or vegetables – I stuck with the salad as the safer bet, but mentally marked up the waitress for offering me the off-menu choice.
We ordered our food and settled down to wait…
…and wait…
…and wait…
…
Finally, well over half an hour after we'd ordered, a staff member appeared coming down the stairs from the first floor with two plates. Ours, perhaps? They were placed on the counter and left, for a good couple of minutes, uncovered, outside, in the sort of temperature that flies love.
Eventually a waitress noticed and brought over one of the plates, which turned out to be Mr ND's breakfast. I asked where my meal was. The waitress apologised and told me that "there is only one chef and the chicken is busy". I had a vision of a headless bird dashing frantically from oven to worktop to sink… and was on the verge of cancelling my meal when she told me that it was already cooked and brought over the other plate. I don't really see how come the "chicken" could have been so busy as there were not that many customers in the place, and hardly any of them were eating.
Mr ND's breakfast looked pretty meagre – and the pretentious gimmick of putting the beans into a little ceramic trough (a bit like a mini-Belfast sink) didn't help, especially since they weren't terribly good beans. (You can get good beans in Thailand without forking out for Heinz imports – Brook are widely available and perfectly good.) The bacon was rather overdone. The toast, which was billed as being something a cut above, wasn't properly toasted and was made with that rather nasty sweetish-tasting bread you often get in countries that don't know how toast should taste. But the hash brown was good – crispy on the outside, softish in the middle, and tasted home-made rather than frozen.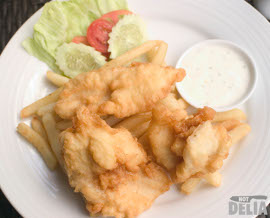 The fish and chips were nice, although by the time they arrived on the table I'd pretty much lost interest. Never mind, Mr ND was able to scoff a fair bit of it after he'd finished his meagre breakfast. But not the salad – that was tired and pretty vile.
Overall verdict: 3 out of 5
The drinks were good and reasonably priced, and it's a nice place to sit. We'd probably go back but only for drinks. I think we'd give the food a miss next time.