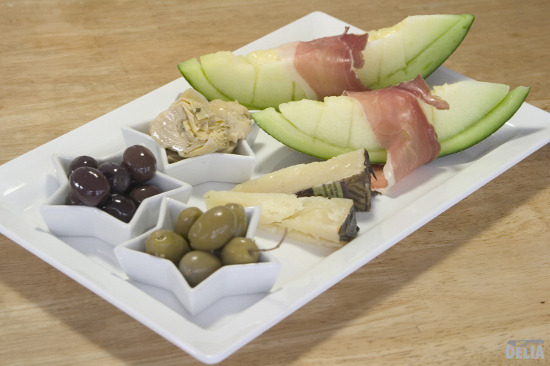 Here's a very simple antipasti platter which you can also use as a starter. The photo shows a sharing platter for two, but you could easily scale it down to make individual servings, or scale it up for more people. You can also vary the ingredients according to your tastes and budget.
Mine includes Parma ham, melon slices, Manchego cheese, artichoke hearts (from a jar), and green and black olives.
I think the presentation matters for this kind of dish. You don't need to use expensive ingredients or fancy plates, but do take care about how you present the food on the plate. If you have a go yourself, please send in your ideas.
Or if you're looking for more ideas of things to do with salami, Parma ham and other charcuterie products, this book could be a good starting point:
Salumi: Savoury Recipes and Serving Ideas for Salame, Prosciutto, and More
Joyce Goldberg and John Piccetti
Hardback, 144 pages
2009, Chronicle Books
ISBN 978-0-8118-6424-4
RRP: £16.99