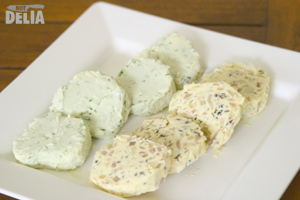 Savoury butters are a nice way to jazz up lots of things – steaks, including steak sandwiches, any barbecued meat or vegetables (especially corn on the cob), and baked potatoes. They're simple and easy to make. All you have to do is soften the butter and mix your ingredients into it. Then make a sausage-shaped roll out of it in clingfilm. Chill or freeze it so you can cut it into slices. And that's it!
It's a nice easy way of making your barbie or sandwich look and taste that little bit better. You can use pretty much anything you want (but not all at once in the same savoury butter! Yuk).
Ainsley Harriot has some great ideas for this in his Barbecue Bible. He includes recipes for:
Betty Blue Cheese Butter
Sundried Tomato and Black Olive Butter
Italian Pesto Butter
Shallot, Mustard and Black Peppercorn Butter
Five Spice, Orange and Ginger Butter
So, as you can see, the possibilities are endless. I (sort of) made his blue cheese and the shallot, mustard and black peppercorn butters, which you can see in the picture above. If you want a recipe to give you an idea of how to go about things, here's a taster from Ainsley's book.
Betty Blue Cheese Butter
"Full of tempting flavours ready to ooze into succulent barbecued pork or chicken."
(I used it on ostrich steak and it was good on that too. )
Ingredients
50g (2oz) slightly salted butter, softened
50g (2oz) blue cheese such as Roquefort, Stilton or Danish blue
25g (1oz) full-fat soft cream cheese
1 tbsp chopped fresh parsley
salt and freshly ground black pepper
Method
Whizz the butter, blue cheese and cream cheese in a food processor until smooth. Stir in the parsley and seasoning, shape into a roll and chill until firm or required.
Ainsley Harriott's Barbecue Bible
Ainsley Harriott
Hardback, 190 pages
1997, BBC Worldwide
ISBN 0 563 38366 6
RRP: £14.99