Hajime Robot Restaurant, Bangkok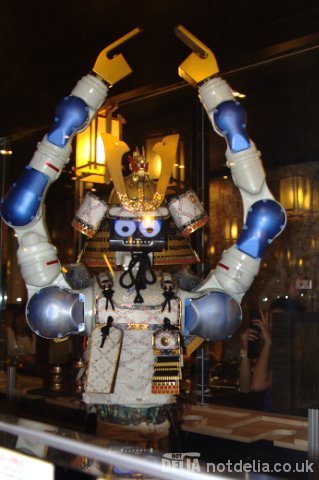 Hajime Robot Restaurant
Floor 3
Monopoly Park
59/27 Industrial Ring Road
Bangkok 10120
Open 1130-2230
"Hajime" apparently means "first" in Japanese, and it was certainly a first for us. We'd never been to a restaurant where the waiting staff are robots before. The novelty appealed and we stoically endured the Bangkok rush hour traffic to cross town from Sukhumvit to Rama III. The restaurant's own website says it's only 12 minutes from Asoke, and well it might be – if you're in a helicopter. On the way back, the traffic wasn't bad at all but it was still nearer 20 minutes than 10 from Monopoly Park to Sukhumvit.
Having been dropped on Rama III by a helpful but confused taxi driver who didn't know where Monopoly Park was – it's a shopping mall with hardly any shops even though it's been open for a couple of years – we had a fairly long trek down Industrial Ring Road (which gives you a hint of the sort of surroundings the place is in) to get to the place. We were gasping for a cold drink.
First, though, we had to get our table, which we'd booked earlier by phone, and get settled in. We were shown to a poky little table where we'd have to sit side by side with no elbow room and facing a glass wall. Not Delia doesn't like that sort of squashing in, especially when the place wasn't busy and there were plenty of other couples sitting at the more generously proportioned tables.
After we refused the tiny table and threatened to leave – that was a bluff, of course, as it had taken so long wandering in the wilderness to get to the restaurant in the first place – the staff, after holding several committee meetings to decide whether or not we could have a proper table, eventually agreed and showed us to a larger one.
We had chosen one of their buffet selections – all you can eat in 1 hour 45 minutes. But if I looked at my watch during my visit, it wasn't due to wondering how much time was left because I wanted to eat more but rather a case of how much longer to endure before it was time to leave.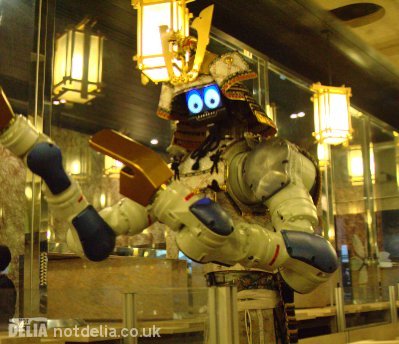 Food is ordered via a touch screen computer monitor. Easy. We've tried that before at Sakae Sushi and found it to be quite fun.
First up for us was to order a couple of beers. We checked what drinks were included in the buffet menu, but the relevant menu page only contained fruit, which would not quench our thirst. So we went off-buffet and ordered two beers from the à la carte menu.
This caused pandemonium. We were there to have the buffet, how dare we order something from the à la carte menu? Did we realise that we would have to pay extra for it? Yes, we realised, understood, and accepted that. Now can you bring the beer, please? No. They couldn't. It resulted in an ad hoc staff meeting at the end of our table while they discussed whether or not we could have beers when we were there as buffet BBQ customers. And time was ticking by and we hadn't even got started on our buffet yet.
It was only after we pointed out that there was nothing at all to drink on the buffet menu, and assured them that we would pay for any off-buffet items over and above the price of the buffet meal, that they were persuaded to bring us two beers. I really don't know why they had to make things so difficult.
Happy at last, with our cold beers, we started to order our food. We had a charcoal BBQ grill on the table where we could cook our selection of food. All well and good, except that there wasn't much of a selection. We could have grilled slices of meat, or grilled slices of meat, or more grilled slices of meat. There was one section of the BBQ buffet menu entitled "steaks and salad" so I had a hopeful look on there. I was simply wanting to have some veg along with the grilled meat meal. That was a dead end. There was one item under "steaks and salads" with "sold out" written underneath it.
However, more intensive searching led to a few vegetables in another part of the menu. The choice included lettuce, carrot, and leek. Remember that the only cooking appliance we had was the BBQ grill. We had no oil or anything to make the food more palatable. Grilled leek, anyone?
If you like dry grilled leeks and mushrooms, along with some bits of dry grilled meat, then you might like the food at the Hajime robot restaurant. I thought it was abysmal. There is the option of having a shabu-shabu (Mongolian-style hot pot), but we'd opted for the more expensive barbecue in the mistaken belief that it would be a treat.
The robots (there are two of them) run up and down tracks between the rows of tables. The robots were fun to watch. You can see the photos. But we were only served a couple of times by the robot. Mostly it was the human staff who brought us the food and drink. And even then we didn't get everything we ordered – more than once, the orders we'd patiently punched in on the screen apparently disappeared into an electronic black hole. So we had to reorder several items before they finally made it to our table.
The staff appeared to be confused by the whole process and perhaps alienated from their work. In any other Japanese restaurant we've been to in Thailand, the staff have always been friendly and helpful. It seemed as though the staff at Hajime just didn't know how things were supposed to work. They seemed very bewildered about everything. Not just the beer for which they'd had to hold all those staff meetings before they could agree to entertain such an outlandish request. We even had to ask them to bring wasabi and a couple of paper napkins. Things that one would normally expect to be supplied without even having to ask for them at any other place.
All in all, visiting this restaurant was a truly awful experience and I was glad when our time was up. We asked for the bill. Twenty minutes later, they had still not brought it to us so we left the table and hovered around in the reception area. There was another family there in the same predicament. Eventually a bill was brought. Yes. One bill for both Mr ND and me, and for the family beside us. Aaargh.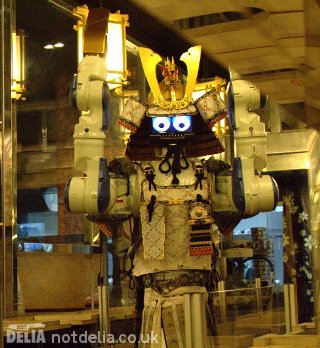 And so it ended. In the Land of Smiles it's hard to imagine how the robots could be friendlier than the staff, but the Hajime somehow managed it. We didn't leave a tip.
The robots were fun. If you have children I expect that the kiddies will want to return time and time again to see the robots in action. Even as adults, we enjoyed the robot aspect of the place. It was a must see! Having now seen it, I can confidently say that we'll never go back.
I liked the robots and they do a little dance routine every half-hour or so, which is quite amusing. I'm rating this restaurant 1 out of 5 because of the robots. The mediocre food and the sullen, incompetent and unfriendly staff get zero. Don't go, unless you're really very keen to visit an industrial wasteland to have a bit of a car assembly line serve you with crap food.