Old German Beerhouse, Bangkok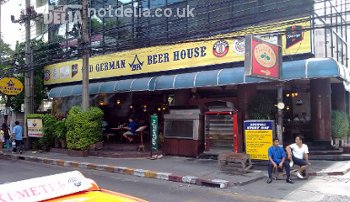 Old German Beerhouse
Grand President Tower III
11 Sukhumvit Soi 11
Bangkok 10110
Open daily 0800-0100
We're not big fans of German food. Mr Not Delia likes it more than I do (he's spent several years living in Germany), but even he admits a lot of it can be rather heavy and bland – a bit like English food, but with all the interesting bits stripped out. Nevertheless, we've been to the Old German Beerhouse in our favourite street in Bangkok three times in the last 18 months, so maybe it's time we wrote a review.
The Old German Beerhouse is on the ground floor of the Grand President aparthotel, about midway along the soi before it branches off to left and right. (Guests at the Grand President get a discount on food at the OGB.)
There are two main seating areas, both of them pretty vast; the bigger of the two is open on two sides (the front facing Soi 11 and an alley at the side), which means that you can smoke – every table in that area seemed to have an ashtray when we first visited one evening in January 2011. Naturally there's no a/c in the open area, but along the open sides there are fans with atomiser sprays spraying out mist which then gets blown into the restaurant and keeps the place relatively cool. It works very well.
There's also free WiFi Internet access, and several magazines and newspapers – mostly in German, as you'd expect. But the menu at least is in German, English and Thai.
There's generally a fair bevy of staff around, who when we visited were all wearing tops very similar to the German football team's black away shirts. When we asked to move tables so that we could street watch we, our beers, our place settings and our bread and butter were shifted very efficiently and cheerfully.
There are two bars: one main one which extends into the non-smoking area and towards the kitchen, and a smaller one next to the street, with several bar stools for those that like to sit at the bar and drink. There's a pretty good choice of the usual beers available in Thailand, plus a fair few German ones too. On our visit we ordered a 500 ml bottle of Erdinger Hefe wheat beer each. Yum!
Mr Not Delia ordered Jägerschnitzel – schnitzel with a creamy sauce made with mushrooms, bacon and onion. It was a big, big portion! – two large, perfectly fried pieces of schnitzel, together with a generous helping of shoestring fries (frozen, as you'd generally expect in Thailand). The sauce was made nicely too, with plenty of onions and mushrooms.
German mustard was set out on the table, so Mr ND added a generous dollop of that. Lecker! (Which he assures me means "tasty".)
I ordered a poached seabass with boiled tatties in a white wine sauce. The taste was excellent. The presentation would appeal to someone with a big appetite, not someone who's looking for fine dining. But the quality was very good, and certainly good enough to make me want to eat there again. Presentation? Oh well, so what.
The one strange thing was that there were carrots in the white wine sauce, and also (OK, two strange things): you know how a pizza goes when you cut it, because of the cheese? Well, that was the texture of the sauce, even though I couldn't taste any cheese in it.
As I say, that visit was in the evening.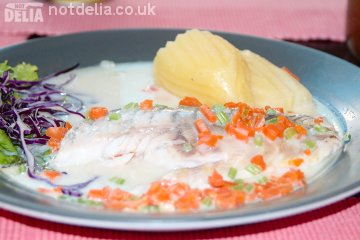 Three months later, in the mid-afternoon, I was starving hungry and went in to order the same again – but was bitterly disappointed to receive a meal which, though nominally the same, was very different in quality. The fish was overcooked. The potatoes were undercooked and cold, and tasted as if they'd been reheated. And, as you can maybe see from the photograph, the sauce was a watery, runny, tasteless affair – with even more carrots than the previous time.
At that point we'd pretty much given up on the Old German Beerhouse as a place to eat. But never say never…
Recently (July 2012) we pitched up at the OGBH at half-past midnight. It was a last resort, after we'd been let down by room service at the President Palace Hotel just down the road and then discovered that the Federal Hotel's 24-hour coffee shop was no longer 24-hour. To our surprise, the restaurant kitchen was still open – just. So, yet again, I ordered the seabass, and Mr ND ordered a straightforward schnitzel and chips.
Given how late it was, we didn't hold out too much hopes of enjoying the meal. In fact, we fully expected the kitchen staff to be in winding-down mode and therefore to just bash something out to get it out of the way so that they could close down. But no – both meals were hot and cooked nicely, and tasted absolutely fine.
Overall score: 3 out of 5 – if…
…it's the evening. It's a nice bar (we've been there several times without eating), and you can smoke in it, but the food's not really to my taste – which is why I keep on ordering the same thing. I just don't fancy much of what the menu has to offer. (You can download the current version from their website.)
If you particularly like German food, or if it's late evening and you're desperate, you might rate it more highly than that. If it's the afternoon, I'd say: Stick to beer!