Mushroom and pesto lasagne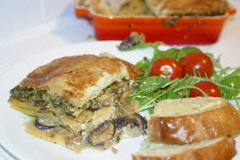 Here's a recipe for a delicious vegetarian lasagne. It's a little bit complex because it requires preparing several different items before going on to do the final assembly.
The main prerequisites for assembling this recipe are:
Ingredients
(serves 2)
Rather than having to measure you can just copy the ingredients from the photo. It includes:
lasagne sheets
mushrooms
onion
garlic
butter
Parmesan cheese
parsley
(Due to lack of short-term memory, I have no idea why I included the small jug of milk in the picture.)
Prepare the béchamel, pesto, pasta and mushroom filling.
Mushroom filling
Sweat off the onion in a suitable pan and add the finely chopped garlic, and sliced mushooms. Sauté until cooked. Remove pan from the heat and stir in some chopped fresh parsley. Taste and season with salt and pepper if wanted.
Preheat oven to about 180°C.
Now for the assembly.
Butter a lasagne dish or other suitable ovenproof dish.
Put a layer of mushrooms in, then a layer of pesto, a layer of béchamel, and a layer of lasagne sheets. Repeat this layering process until all your ingredients are used up – but keep back some of the béchamel.
After you have placed your final layer of pasta, top it with the remaining béchamel and grate the parmesan cheese over it.
Place in the oven for about 30 minutes until it's golden and bubbling.
Now it's ready to serve. I served mine with a side salad and garlic bread.