155R Central Festival Pattaya
333/99 M.9 Nongprue
BANGLAMUNG 20260
While on a recent shopping expedition at Central Festival, Pattaya's swankiest shopping mall (yes, Pattaya does do swanky in some places – it's not all Sin City), we lost track of time and suddenly found ourselves ready for our dinner. So we nipped out of the front of the mall and made our way to Mulligan's, overlooking Beach Road, the sea and the mall's basement-level plaza.
There's a small chain of Mulligan's pubs in trendy locations in South East Asia – we've also had a pint in the one in Sukhumvit Soi 11 in Bangkok, which replaced Temple's. The third in the chain, which is actually the original, is on Clarke Quay in Singapore.
As usual when trying out a new place, we ordered two meals that sounded like something we would enjoy – so that if one turned out to be a failure then we'd be able to share the other.
Mr Not Delia ordered the fish and chips. The fish, we decided, was probably basa; it wasn't a flaky fish, just a fairly thin fillet wrapped in thick batter. The chips were rather dry. The salad leaves were nice enough, and were dressed in balsamic vinegar. It was OK, we supposed – at least it was hot when it arrived. But we wouldn't order it again with more palatable alternatives available.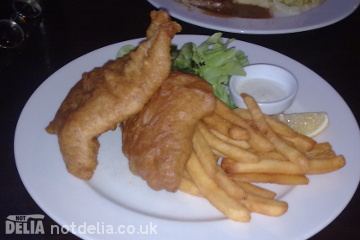 (Sorry about the picture quality. As this was a shopping expedition rather than a restaurant review outing, I didn't have my camera with me, so we had to make do with Mr ND's mobile. But you get the idea of what it was like, anyway.)
I did rather better. I ordered what was listed on the menu as pork tenderloins with mashed potato, sautéed Savoy cabbage and mustard sauce. The pork didn't appear to be tenderloin – it looked more like pork steaks – but was tasty, reasonably tender, and juicy. The mash was fine, and was proper potato and not a Smash variant. The cabbage was cooked nicely, not having been boiled to death, and had bacon bits in it. And the mustard sauce turned out to be a gravy with wholegrain mustard added. It was all enjoyable, and I would happily order it again.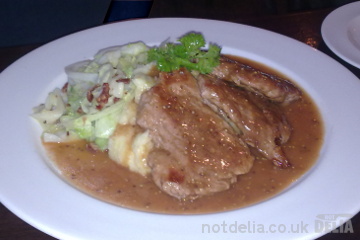 The Guinness was fine. Pretty much the same as Guinness everywhere, except Ireland. But at ฿260 a pint (over £5), it ain't cheap.
The staff were friendly and helpful. We gave them a little bit of a runaround, as we insisted on sitting outside (smoking in public areas indoors being banned in Thailand). Predictably, halfway through the meal the heavens opened and we had to move seats, but about three of them pitched in to give us a more sheltered table.
Overall rating: 3½ out of 5
The fish and chips dragged this rating down. Mulligan's is a pleasant enough example of the Oirish pub, in a handy location, and some of the food is actually good rather than being merely acceptable. We'd certainly keep it in mind as an option if we happened to be in the area and feeling hungry. But not for fish and chips.