Kampot Pepper Chocolate – from The Shop, Phnom Penh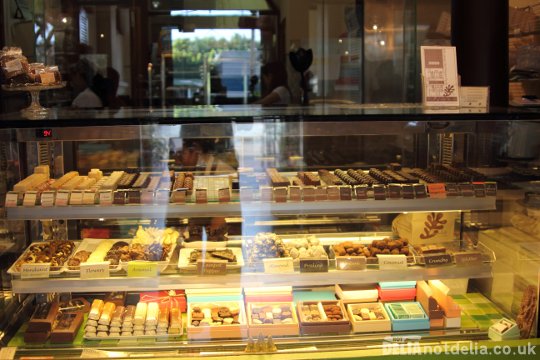 The Shop
39, Road 240
Phnom Penh
Cambodia
http://www.theshop-cambodia.com
We knew exactly where we wanted to go, and even had a business card from the café we'd planned to go for lunch with a map of how to get there. But our tuk-tuk driver, who had assured us several times that he knew where to go – and had taken us to the wrong place a couple of times already – seemed to be completely baffled and just kept driving around, perhaps in the faint hope that eventually we'd exclaim, "Oh! There it is!" It didn't happen.
Eventually we tired of this not-so-magical mystery tour and drew a line under it when we were driving down Road 240, a fashionable strip of trendy eateries and boutiques. We had lunch at Naturae outside The 240 hotel instead, an organic restaurant selling salads, pasta and risotto etc. After a reasonably enjoyable lunch (it was a nice place to sit and the food was mostly OK, but the beer was warm) we had a quick stroll down the road and discovered The Shop. Hey! that was lucky! We just happened to accidentally discover Phnom Penh's only chocolate boutique. Of course we had to go in.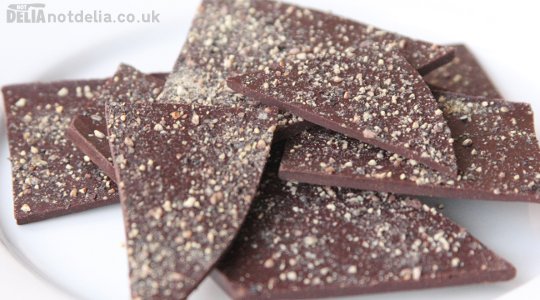 One of the first things we saw, as well as a delightful array of luxury chocolates, was Kampot pepper chocolate. We've heard of chilli chocolate before but never pepper chocolate. This was something we would have to try!  We bought 100 g for $5 and here's how we got on. First, we borrowed a plate for our photograph from the ever-helpful staff at the California 2 Bar on Sisowath Quay, where we were staying. You can see the photo above.
Chocolate making at The Shop is run under the skilful guidance of Belgian Master Baker & Chocolatier Eric Proye. Like Laurent Bernard, whom we've featured earlier, Eric Proye sources his chocolate ingredients from South America rather than the lower quality and controversial cocoa beans which come from West Africa.
The chocolate is good! It's even had a write-up in the New York Times. And how did it taste? The dark chocolate was pleasantly bitter and the encrusted peppercorns packed a fiery punch. It was interesting and perhaps something one would have for an occasional treat or novelty. We liked it, and if you get the chance, you should definitely try it.