Iced berries with white chocolate sauce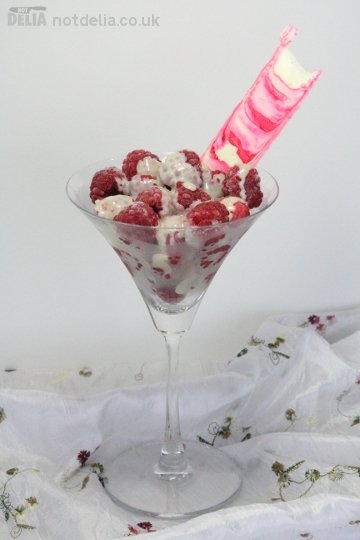 Here's a recipe from Ainsley Harriott's Just Five Ingredients
– a book of over 120 fast, fuss-free recipes. If you're a regular reader of Not Delia, then you'll know that I'm a big fan of Ainsley. I like his quick and easy style and his recipes always work out great. Mr ND bought me the book as a surprise because I love Ainsley's Gourmet Express. So, when I needed a chocolate recipe for today, this is where I looked first and I wasn't disappointed.
Here's Ainsley's recipe:
Iced berries with white chocolate sauce
Use any selection of frozen berries you fancy for this recipe. It looks amazing and very festive served in Martini glasses, but any pretty glass will do.
Ingredients
(serves 4)
350 g (12 oz) mixed frozen summer berries
200 g (7 oz) good quality white chocolate
150 ml (¼ pint) double cream
3 tbsp evaporated milk
Method
1. Pile the mixed berries into four pretty glasses set on plates and leave to thaw at room temperature for about 10 minutes. The idea is that the berries are iced but not frozen solid.
2. Meanwhile, break the white chocolate into pieces and place in a heatproof bowl with the double cream and evaporated milk. Set over a pan of simmering water and leave to melt, stirring occasionally until you have a smooth chocolate sauce.
3. Drizzle the warm white chocolate sauce over the iced berries and serve immediately.
It doesn't get much easier than this, so let's see how I got on. First of all I didn't have any frozen mixed berries, but I did have a 300 g box of frozen British raspberries from Waitrose. That's fine, there are only two of us so I'm only going to make half the quantity anyway.
As you can see from my photo, I used a piece of marbled chocolate to decorate the dish. Marbled chocolate is easy to make. Why not have a go?
This is a really nice light dessert and could be a great way to round off any dinner party without any stress or fuss about having to cook any fancy creations. Oh, and it tastes great too!
Just Five Ingredients
Ainsley Harriott
Paperback, 192 pages
2009, BBC Books
ISBN 978-0563539247