How to make lemon chicken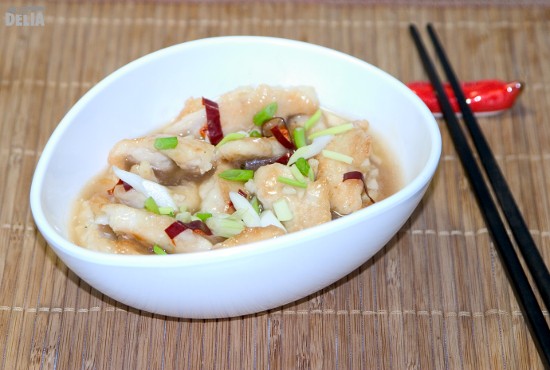 This is the sort of dish people often order from Chinese take-aways, but it's quite easy to make it yourself at home. Why not save some money and give it a try?
This is Ken Hom's version of the classic dish from his Foolproof Chinese Cookery book.
Ingredients (serves 4)
450 g (1 lb) boneless, skinless chicken breasts, cut into strips
1 egg white
1 tsp salt
1 tsp sesame oil
2 tsp cornflour
300 ml peanut oil or water (I used plain vegetable oil)
2 tbsp finely chopped spring onions to garnish
For the sauce
65 ml chicken stock (as per Hom's recipe on p26 of the book – I just used veggie stock)
3 tbsp fresh lemon juice
1 tbsp sugar
1 tbsp light soy sauce
1½ tbsp rice wine or dry sherry
1½ tbsp finely chopped garlic
1-2 tbsp crushed dried red chill
1 tsp cornflour blended with 1 tsp water (for "velveting" the chicken)
2 tsp sesame oil
I guess it sounds like a lot of things to buy, but these are mostly basic store cupboard ingredients for Oriental cookery and they'll last for a long time. Once you buy these, you'll be able to use them for lots of other dishes too. Over time, you really will save money by going down the DIY route.
Method
1. Put the chicken strips in a bowl and combine with the egg white, salt, sesame oil and cornflour. Put the mixture in the refrigerator for about 20 minutes.
2. If you are using oil for velveting the chicken, heat a wok until very hot and then add the oil. When it is very hot, remove the wok from the heat and immediately add the chicken, stirring vigorously to prevent sticking. After about 2 minutes when the chicken turns white, quickly drain it and all of the oil into a stainless steel colander set over a bowl. Discard the oil.
If using water, do the same but bring the water to the boil in a saucepan before adding the chicken. It will take about 4 minutes to turn white in the water.
3. If you have used a wok, wipe it clean. Heat it, then add all the sauce ingredients except the cornflour mixture and the sesame oil. Bring to a boil over a high heat and then add the cornflour mixture. Simmer for 1 minute.
4. Return the chicken strips to the wok and stir-fry long enough to coat them all with the sauce. Mix in the sesame oil, then turn onto a platter, garnish with the spring onions and serve at once.
Serve with steamed rice – Ken Hom's method (also in the book) is excellent.
Foolproof Chinese Cookery
Ken Hom
Hardback, 128 pages
2000, BBC Worldwide
ISBN 0 563 55133 X