Friends The Restaurant, Phnom Penh
215 Street 13
Phnom Penh
We visited Friends back in November 2011 and absolutely loved it. I don't know how come I forgot to post about it. Anyway, on our next trip to Phnom Penh, we were keen to try the place again, and I'm pleased to say we weren't disappointed. It was superb again, and is definitely a restaurant you should try if you're in Phnom Penh.
The interesting thing, though, is that it's not just a restaurant like any other. It's a training restaurant which exists to provide opportunities for former Cambodian street kids. It's a very laudable cause, as I'm sure you'll agree, but the amazing thing is that putting aside the charitable aims of this place, the food itself is incredibly good. I would have been happy to pay for food of that quality in any commercial establishment.
The food covers a variety of cuisines, Western and Asian, and it's served tapas-style with relatively small portions (priced accordingly). This is great because it gives you the opportunity to try lots of different things rather than having to opt for one big plate of the same thing.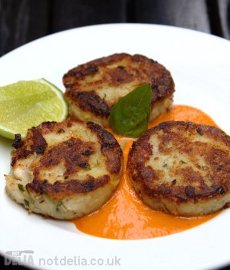 So, let's have a look at what we had.
There's a large tapas menu with lots of vegetarian options, fish, and meat dishes too. We went for the roasted pepper, courgette and rocket spring rolls with basil lemon mayonnaise. These are the raw type of spring rolls rather than the ubiquitous deep-fried version. They were very good and probably our favourite of the dishes we sampled.
We also had fish and potato cakes with a roasted red pepper coulis, which were also tasty.  The stir fried beef with oyster mushrooms was pleasantly peppery and the beef was tender. We had Khmer grilled pork fillet with a lotus and beansprout pickle, which was an interesting diversion and very good. And also a smoky aubergine dip with crusty French bread.
We left very full and satisfied.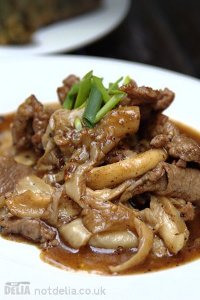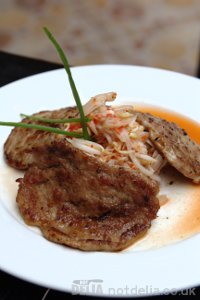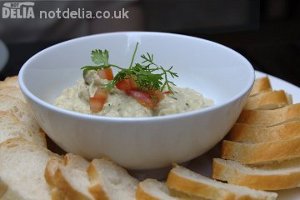 The ambience of the place is very pleasant with friendly staff and good service. The presentation and quality of the food couldn't be faulted. And you can have a warm, fuzzy feeling by knowing you're helping a worthwhile project. I'm not the only person to think this as Friends is currently No. 1 on TripAdvisor for their readers' top restaurants. Interestingly, TA's No. 2 is a sister restaurant of Friends. It's Romdeng – those guys who serve the fried tarantulas. Yes. I know that I really need to go and check that out but I'm frightened of spiders. We'll see…
There's also a Friends shop next door to the Friends restaurant which sells clothes and crafts made by others on the Mith Samlanh projects. It's all really good quality stuff. (Mith samlanh is Khmer for "friends".) Also, if you want to help them there are various ways to donate or support their projects, including buying a brick for $50. The brick is individually painted by one of the Friends children and is used to build their centre in Phnom Penh.
Friends International is the umbrella NGO for all these wonderful projects. Please support them if you can, even if it's only to go and treat yourself to a good scoff. You'd be hard pushed to find better food in Phnom Penh anyway. Highly recommended!