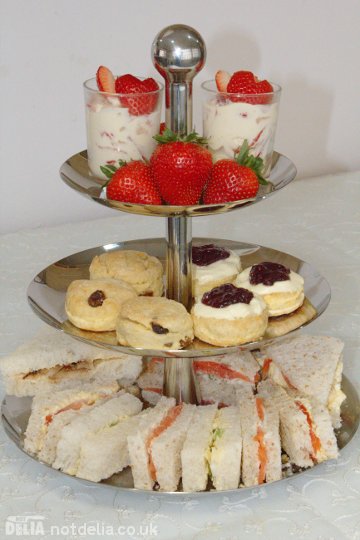 I like to browse around various other food websites looking for ideas, menus and recipes. I was looking at some menus in posh London hotels and noticed how popular Afternoon Tea seems to be. Crikey! The prices would scare you – around £30 per head or £40 if you include a glass of champagne with it. (£53 at the Ritz!)
And what is an Afternoon Tea anyway? Traditionally it comes in three layers. You start with sandwiches, cut into dainty triangles or fingers, then you move up to scones with cream and strawberry jam, and finally you reach the pinnacle of "fancies" – pastries and cakes. But, of course, if you're making it yourself you can vary it according to your own tastes. Oops, and I nearly forgot, it's served with a pot of high-quality tea.
Well, I had no intention of forking out forty quid for a few sandwiches, a cup of tea and a scone, so a bit of DIY was called for.
Sandwiches
Here are some classic ideas for finger sandwiches:
cucumber;
egg mayonnaise with cress;
smoked salmon with cream cheese;
Coronation chicken;
Ham and mustard.
And some super-posh ones from the Ritz's menu:
Ham Sandwich with Grain Mustard Mayonnaise on White Bread;
Cheddar Cheese Sandwich with Chutney on Onion Bread;
Cucumber Sandwich with Cream Cheese, Dill, and Chives on Caraway Seed Bread;
Chicken Breast Sandwich with Horseradish Cream;
Scottish Smoked Salmon with Lemon Butter on Rye Bread;
Egg Mayonnaise Sandwich with Chopped Shallots and Watercress.
And now for my ideas. Get brown and white bread from the local baker, and make sandwiches with whatever happens to be in the fridge or freezer. Thus I made:
– turkey breast with redcurrant sauce with port (white bread)
(The turkey breast was in the freezer as a leftover from Christmas, and the redcurrant sauce with port was lurking in a jar in the fridge. Cranberry sauce would have been more traditional but I didn't have any.)
– vintage cheddar with spring onion (white)
– egg mayonnaise with tomato (brown)
– smoked salmon with horseradish and capers (brown)
Scones
I also made scones for the second tier. Here's a recipe for tiny scones. I served the plain ones with a dollop of double cream topped with Fruit of the Forest jam, and I'd put sultanas in the other half of the scone-mix so I just served them with butter. I'm not sure what happened to the sultana scones as they weren't as light and fluffy as they ought to have been. They tasted good anyway.
Fancies
And for the top tier, where you're supposed to have cakes and pastries (which we're not big fans of anyway), I used my strawberries and cream in shot glasses idea. (I also used these to make a Valentine's dessert by putting the same things on a different plate and taking a photo.)
We served it with two types of tea. Darjeeling, an excellent choice for an afternoon tea for Mr ND, and English Breakfast, my favourite, for me. Plus we had a nice bottle of fizz.
And the cost? I didn't count it all up but it probably came to less than £20 for two including the fizz. Kerching! I just saved us £30-40 each. What shall I spend it on?
I guess it is a big treat to go to somewhere like the Ritz for afternoon tea, but by setting the table nicely and presenting the food attractively (you don't need the tiered cake stand, you can just use plates), you can enjoy the high life for a fraction of the cost.