French cut lamb chops with mash, spinach and mushrooms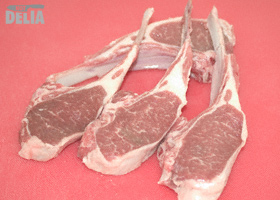 There are various types of lamb chops which you can buy. I found an excellent explanation of the different cuts on the Meat Mentor section of Macbeth's website. (Macbeth's is an excellent butcher, by the way. I know, I used to be a customer when I lived nearby.) A chop is usually a single rib cut from a rack of ribs and French cut is when the meat is cut away at the end to expose the rib. If you're not sure about the different cuts, then do go and have a look at Macbeth's Meat Mentor.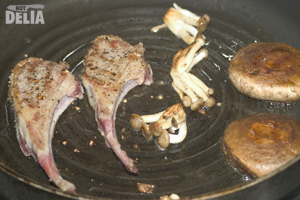 As usual, with top quality food it's often better just to keep things simple. Top quality meat like this needs little embellishment. I decided just to pan fry these lovely little chops. Two each is enough for us but I guess those with larger appetites might like three or more (eek!) per person.
I removed the chops from the fridge to bring them to room temperature before cooking. Next I seasoned them with a little salt and pepper immediately before cooking. (Seasoning with salt too soon draws out the juices, so you probably don't want to do that for lovely juicy chops.) I added a little bit of oil to the so-called grill pan (it's just a frying pan with lumpy lines as far as I'm concerned). Heat the oil until it's sizzling then whap in the chops. Ideally you want them beautifully browned on the outside and lovely and bloody on the inside. Sure, you can destroy them by over-cooking them if you like your meat 'well done'. Bah! Badly done, more like.
Meanwhile I cooked up some mashed potatoes, spinach, and a couple of Portobello mushrooms and some funny little foreign mushrooms which I've forgotten the name of. I also made a gravy-like sauce out of onions, red wine and stock (the old standby Marmite is the best cheat in my kitchen!). It was a quick and easy delicious meal. (Get the potatoes on for the mash first.) As usual, the photos seemed to take longer and be more hassle than the cooking itself – but I think you can get the idea from the picture.