Curried Cream of Parsnip Soup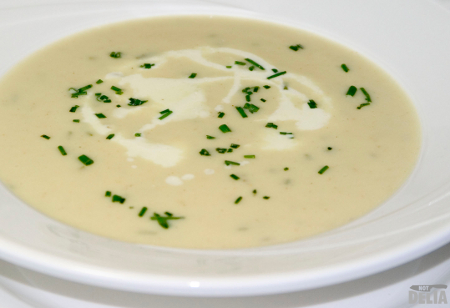 Here's a quick and easy vegetarian soup which is absolutely delicious served with some lovely crusty bread.
Ingredients
25 g (1 oz) butter
1 onion, chopped
2 medium sized parsnips, chopped
1 potato, diced
1 cube (about 1″) ginger, finely chopped
2 cloves garlic, finely chopped
2-3 tsp medium curry powder
1.1 l (2 pints) vegetable stock
300 ml (½ pint) milk
150 ml (¼ pint) single cream
salt and pepper to season
chives or coriander to garnish
Method
Add the onions and garlic to a saucepan.  Start sweating off.  Meanwhile chop the parsnips and potato and bung them in too.  Keep stirring.
Add the ginger and the curry powder.  Continue to cook for a few minutes.
Next add the hot stock and simmer for about 30 minutes until the vegetables are tender.
Blend in a food processor or liquidiser.
Return to the pan.
Now add the milk, then the cream.
Taste and adjust the seasoning.
Reheat gently without boiling.
Serve garnished with snipped chives or some fresh coriander leaves.