Chicken (or turkey), bacon and avocado sandwich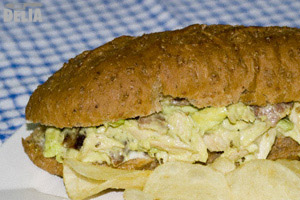 I made this sarnie a while ago but forgot to post about it, so here it is now. Of course, you can easily substitute turkey for the chicken, especially if you're keen for ideas for turkey leftover recipes.
Ingredients
Wholemeal sub roll (or whatever other bread you fancy)
Some roasted chicken or turkey, cut into small pieces
Chunks of avocado
Rashers of streaky bacon, crisply fried and cut into small pieces
Mayonnaise
Seasoning
Method
It's mostly just an assembly job. Spread the roll(s) with mayonnaise. Put the other ingredients – chicken or turkey, avocado, and bacon – into a bowl. Add some mayonnaise and mix. Taste, and add salt and pepper (and a sprinkling of paprika if you fancy it). Load the filling into the roll and serve. I served mine with crisps on the side.
This time of year, I guess people are dreading the interminable leftovers and turkey sandwiches. But turkey sandwiches don't have to be boring. You can liven them up in all sorts of ways. I like them with cold sliced pork, sage and onion stuffing balls. Or you could try different kinds of mustards or even chilli jam. Don't make leftovers a chore – enjoy them!