Want a recipe? Not Delia can't be burgered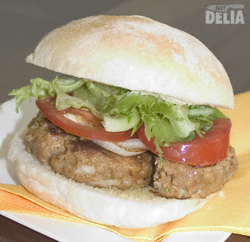 I like to know what's in my food so I always make my own mince and burgers and things like that. I got some cubes of stewing steak, minced it, and made beef burgers.
It's easy peasy. I just added some flavours such as herbs, and Marmite, finely chopped onions, and whatever else came to hand and took my fancy, plus an egg to bind it.
Then I cooked them outside on my electric griddle. This is a very handy piece of kit and is less hassle than firing up the BBQ. Sure, the barbie is fun but the griddle actually gives you better results.
The photo looks a bit funny because I'd made quite small burgers and then Mr Not, who'd gone shopping while I made the burgers, turned up with HUGE rolls. I had to put 1½ burgers into each roll. No matter, it tasted great anyway. Here they are sizzling away nicely on the griddle along with some onions.
For those who like precise recipes, Jamie Oliver has a great one in his Ministry of Food book on page 146. He uses Jacob's cream crackers in his and calls it "a cracking burger". You'll need to get the book if you want the details.
And now for the sales patter:
Jamie's Ministry of Food
Jamie Oliver
Hardback, 360 pages
2008, Penguin Books
ISBN 978-0-718-14862-1
And as always, I recommend Nisbets for kitchen kit. They do a really nice professional-quality electric griddle for £129 – click on the banner below to see it. Free next-day delivery to mainland UK (not remote or offshore areas).
If you need some new kitchen essentials, please check out my new Amazon Cook Shops for hundreds of really good products.
Not Delia's Amazon Cook Shop: UK and EU (prices in £)
Not Delia's Amazon Cook Shop: Non-EU (prices in US$)