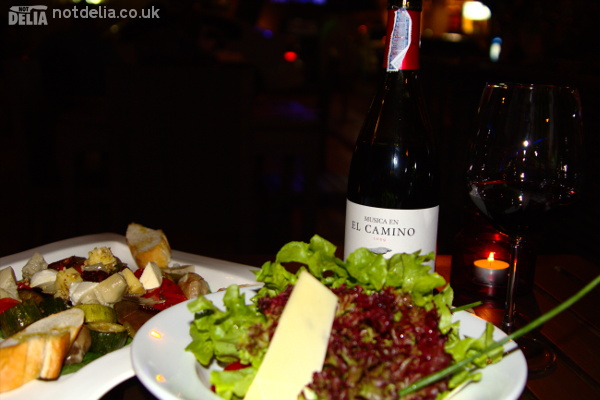 19 Sukhumvit Soi 11
Wattana
Bangkok 10110
On a visit to Bangkok a while back, we were disappointed to see that our favourite Italian restaurant, Contrazi, had closed its doors for good. However, the next time we visited we discovered that a new place had opened, Zaks Wine Pub. Never averse to checking out new places to eat and drink, we had a look at the menu and the wine list. Hmm, seems reasonable, we thought. We decided to give it a go.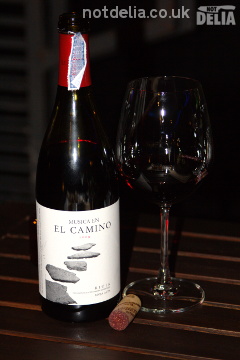 The friendly waiter told us that the idea was to provide somewhere that people who preferred wine to beer could meet up for a reasonably priced, good quality drink, and grab something to eat as well while they were at it. This seems like a good idea in any case – Bangkok's dominated by places that sell lager as their mainstay, with the occasional foreign beer and bog standard wine to eke out the drinks list. And Soi 11 certainly attracts the trendy international crowd that might like the concept of a wine pub. (Zaks do a range of cocktails and mocktails too.)
We ordered the wine first. We decided to skip the standard house wines – offered by the glass at roughly £2.00 or £2.50 depending on choice – and moved up to the lists of premium house wines, available by the glass or by the bottle. Unfortunately they didn't have our first choice, which was Peter Lehmann's Aussie Shiraz, so we settled for a Rioja instead – Música en el Camino, a 2009 Tempranillo. (The name was quite appropriate – there was plenty of music blasting out from the Zaks speaker system. Not our taste, unfortunately.) It tasted pretty good too – a pleasant if undemanding fruity glug. £20 seemed like a reasonable price to pay by Thailand's admittedly inflated standards – slightly cheaper than typical restaurant prices.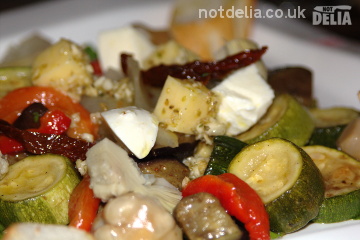 We weren't hungry for anything very heavy, so we ignored the list of pizzas and chose a vegetarian antipasto. This was an arrray of courgettes, red peppers, sun-dried tomatoes, mozzarella, parmesan, artichokes on a bed of leaves, and was enjoyable enough.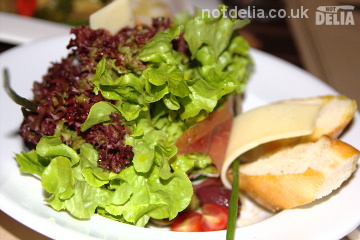 We also ordered the Serrano ham and Manchego cheese salad on mixed greens with Jerez dressing. This was a bit disappointing as it was dominated by a huge forest of leaves and we had fight our way through those to get to the ham. The cheese was OK but nothing special. Even though the salad only cost roughly £3.50, we felt a bit let down by it.
Overall verdict: 2½ out of 5
Not really our kind of place. The food is OK but nothing special. While just for a change we might fancy going to a wine pub rather than a bar for a drink, the place was too raucous for us.