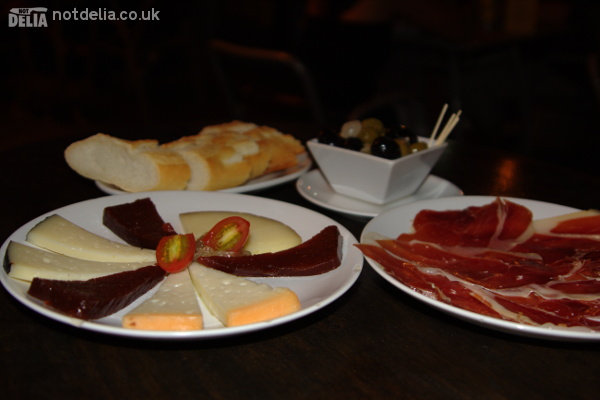 1/25 Soi 11
Sukhumvit Road
Bangkok 10110
Tucked away in a little side-soi off Sukhumvit Road's trendy Soi 11 in Bangkok, the Tapas Cafe is a good place to while away the hours over tasty nibbles and decent wine – or sangria! Mr Not Delia and I have been several times and have picked our way through a fair amount of the menu.
Top of our list of favourites is the Manchego cheese platter, which has three different types of cheese – all varieties of Manchego. We asked about the difference between them, and were told that the one with the dark rind (virtually black) was made from cow's milk, the medium-brown coloured one (and the one that tastes the strongest of the three) was made from sheep's milk and the palest one of all (orange-yellow) was made from goat's milk. However, this seems to have been a bit of misinformation as according to the PDO certification awarded by the EU, Manchego cheese has to be made exclusively from sheep of the Manchega breed, on registered farms within the La Mancha region, and has to be matured for between 60 days and two years. Oh well, they all tasted good, though I preferred the strongest of them. The platter comes with membrillo, a dense quince jam that's quite heavy but adds a pleasant extra dimension of tangy sweetness.
The ham is excellent too, especially the Pata Negra, which comes from a rare breed of pig that's allowed to roam more or less freely on the farms where it's bred. As you can see, the ham's a rich red colour, and it tastes superb – just as well, as it's pretty expensive stuff! The jamón Serrano is good too, though it's a lot lighter and pinker than the Pata Negra – perhaps it's made from domesticated pigs rather than free-range ones. And the Pata Negra has much more flavour, as you'd expect and hope, considering that it's more than twice the price! For those of you who like spicy sausage, the chorizo ibérico was also very nice; meaty, and not terribly fatty.
There are several other nibbles available. We've had a few of them: grilled pork loin, griddled asparagus, prawns in garlic sauce, olives. They're all perfectly nice (apart from the olives, which are a bit disappointing – Mr ND described them as "cardboardy"), and it was good to see that the prawns were properly cleaned. But they honestly can't compete with the cheese and ham, which we keep coming back to – along with their excellent bread. They'll bring you olive oil and balsamic vinegar to dip your bread into if you like that sort of thing (we do!).

As for the wine list, it's dominated by reds as you'd expect, and the prices are reasonable – certainly better than typical hotel restaurant prices. Their sangria is delicious, cheap (especially during Happy Hour, which lasts from their opening time at 1100 and runs until 1900 – they stay open until "late") and is a great refresher for a hot, sweaty Bangkok afternoon. Plus they have WiFi, so you can plug in your laptop and catch up on all your online doings while you glug it down. Bliss!

Overall rating: 4 out of 5
We've been back several times over the last couple of years and enjoyed the atmosphere. It's a great place to unwind if you're feeling lazy mid-afternoon and don't feel like a big blowout.