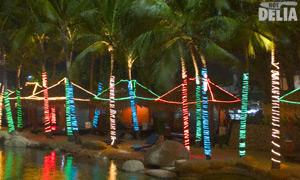 We've been here several times before and even chose this restaurant for our special Loi Krathong dinner last year. Yeah, I know you might think it's boring to keep going back to the same places but when we're spending our own dosh for a nice evening out we often prefer to go with the tried and tested.
As usual, there was plenty on offer. You can't beat a decent buffet for variety. Here's a run-down of the various stations they've got.
Salads
These include all the usuals and some spicy ones. The spicy prawn salad was good. They weren't kidding when they called it spicy but the flavour was very good and quite complex. My only problem with it was that the lemon grass was in rather large chunks and a bit too woody. Perhaps you weren't supposed to try to eat those bits?
Sushi and sashimi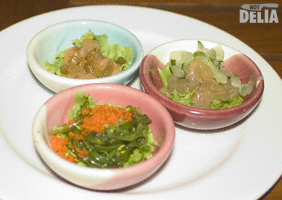 Very nice. The range isn't massive, but what they have got is full of interest – they even had eel (unagi). There was also a selection of tiny dishes, including hiyashiwakame, a delicious seaweed salad (the one topped with orange roe in the picture) which is one of our favourites. They had jellyfish salad, too – more about that later.
Seafood on ice
This is a special station which apparently is only on offer on Saturdays. Even so, there wasn't much choice here: prawns, mussels (nice big fat ones) and crab, but no oysters.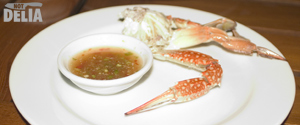 I tried the crab – a small portion, as you see. I like to take a small amount of a lot of different things. Isn't variety the whole point of a buffet? – but had great difficulty trying to get at the meat without the proper implements. (Maybe I'll take my own with me next time. LOL!)
Soups
There were two soups on the go: prawn bisque and another one made with bitter gourd. Soups at buffets rarely inspire me, and I have to admit I didn't try either of them.
Western
Among other things they had mashed tatties (woo hoo!) and nicely crisp veggies, Hawaiian pizza, beef lasagne, lamb chops with rosemary. I couldn't find any gravy, though.
Asian
Here they had crab in curry powder. Don't be misled into thinking this is some weird Indian dish – the curry powder is Thai. I've had it once and it was nice enough, but I generally prefer the chilli paste version. They also had some kind of Thai fish which I've temporarily forgotten the name of, and some Indian curry.
Barbecue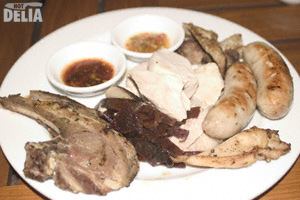 There's a big barbecue station outside which offers all sorts of meat.
On Saturdays they do a whole spit-roasted pig. They do various other fried and grilled bits and pieces to, including pork neck, lamb chop, chicken and Italian pork soss when we were last there. As you can see, Mr Not Delia made the most of it.
Aha! I found the gravy there, which was labelled "brown sauce".
The chef knew what he was doing. I asked for a small piece of tenderloin and he went straight to the right part of the pig on the spit and carved off exactly what I wanted. Nicely done!
Kids' corner
Chicken nuggets, burgers and the other usual suspects.
Desserts
Like most buffets, the Starz Diner's includes fruit and ice cream.
They had a bean curd in almond syrup and longan dessert – it was nice, light and interesting. (I've included a teaspoon in the photo to give an idea of the size of it.) Worth a try, but I probably wouldn't bother again.
Cheeses
Blue Bresse, Brie, Petit Pont L'Eveque, Sainte-Maure de Touraine, Munster. Very nice ripe and runny cheese. I didn't see any biscuits, though. But they had a good selection of nice bread. (However, like almost every other buffet we've tried in Thailand, they only had sunflower margarine and an unpleasantly sweet butter – Allowrie brand – to spread on it. It's one of the very rare occasions where I'd recommend marge over butter.)
Coffee and cake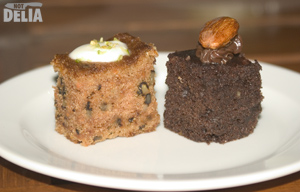 Mr Not Delia decided to finish off with an espresso and with a couple of cakes I'd taken from the dessert station earlier.
I tried a small taste of each of them. The brownie was OK. The carrot cake was very nice.
Free-flow drinks
There are a number of buffets around in Pattaya, but the free-flow gives Starz Diner an edge over its rivals, with as much beer, whisky, wine or soft drinks as you like.
We were served a sort of nondescript white wine. I asked to see the bottle – American, that explains it. I really don't like American wine very much anyway, and the label seemed to suggest that it was made not from grapes but from some other kind of fruit. Never mind, despite not being a fan, I managed to glug it down easily enough.
Jellyfish salad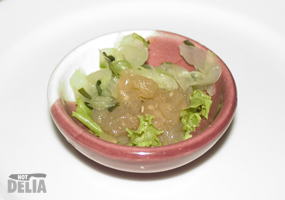 Yeah! jellyfish! Someone asked me ages ago what jellyfish tastes like and I've been on a quest to find out ever since.
I found some in the Japanese section along with the hiyashiwakame. It was labelled "seasonal jellyfish", but the hotel told me afterwards that it was called "kurage-su". It came in strips, together with slivers of cucumber.
(Note: we heard from a Japanese friend afterwards that it's called "sukurage". In Japanese, kurage means jellyfish and su means vinegar. Both terms give results in internet searches, so if you see the words "kurage" and "su" in either order on a menu you'll have an idea what you're getting.)
Actually it doesn't really taste of anything other than what it's been marinated in. It's more of a vehicle for flavour, although it has a nice crunchy texture.
Ambience
The Starz Diner's a very pleasant place to be. As usual, we chose to sit outside by the hotel's swimming pool. Top marks for a comfortable, relaxing evening out. There seemed to be some kind of a show on at the other end of the Diner's outside seating area – some sort of show for kids, apparently – but we couldn't see what was going on from where we were.
Staff
Sofia was our dedicated server and was very good. Cat seemed to be everywhere, helping everyone – she was good fun too. Franky wasn't actually working on our table but was very helpful nonetheless.
Verdict
We would definitely go back (again!). It rates a strong 4 out of 5.
The hotel lobby is very interesting too, with all its rock and pop memorabilia. Dinner at the Starz Diner isn't just a meal, it's more of an "experience". Highly recommended.