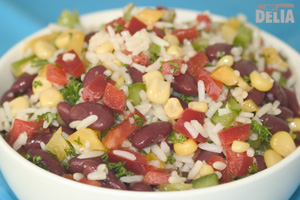 Rice salad is a good way to use up odds and ends from the fridge. The main idea is to make it look colourful and appealing. Pretty much anything goes but it shouldn't be a culinary dustbin. It's a salad so be sure to only use nice fresh vegetables.
The rice should be cooked and cold. When I cook steamed rice (using the method described in Ken Hom's excellent book Foolproof Chinese Cookery) I usually cook more than I need and freeze it. This can quickly and easily be defrosted – a couple of minutes in the microwave – and is ideal for making a rice salad.
Some people hate the idea of using tinned sweetcorn in a rice salad. But I like it, so I used some, as you can see from the photo above.
Other suggestions for ingredients are tinned kidney beans, fresh or roasted, chopped capiscum peppers, – red, yellow, and green – and fresh herbs, such as parsley. Add plenty of them to make the salad nice and colourful.
The last and very important thing to do is to add a tasty dressing. I made my usual vinaigrette with olive oil, red wine vinegar, and a few grinds of steak house seasoning, all shaken together in a small jar. The salad will be bland without a good dressing.
Rice salad is good for cold buffets, along with other old favourites such as coleslaw and potato salad. You could also use it as part of a tapas meal.