Pomegranate, quinoa and herb salad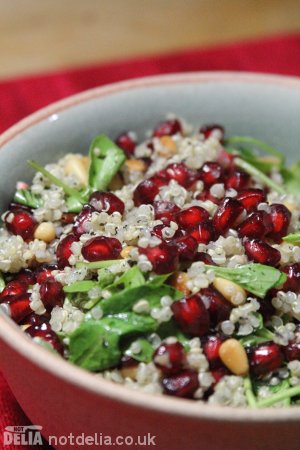 I used to get pomegranate salads sometimes when I lived in the Middle East. I hadn't seen a pomegranate for a long time, so when I found some in a supermarket recently I was keen to try making a pomegranate salad myself.
I found a recipe on the BBC Good Food site which looked quite tasty so, having looked at the picture, I just went ahead and made it. Here's a link for those who like proper recipes. I've no idea if their recipe works as I just did my own thing.
First cook the quinoa according to the instructions on the pack. Mine said one cup of quinoa to two cups of water. It cooks up pretty much the same way as steamed rice. When it's cooked it has a lovely nutty taste and a slightly chewy texture. You could substitute bulgar wheat or couscous if you don't have quinoa.
Toast some pine nuts.
Now mix your ingredients in a bowl. As well as the quinoa, pomegranate seeds, and pine nuts, I also used some rocket leaves. I would have liked to add fresh mint leaves but I didn't have any so I used a couple of teaspoons of mint sauce from a jar.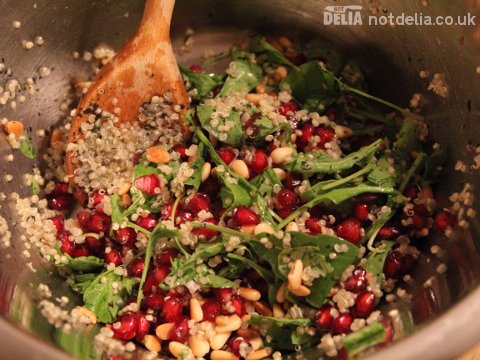 Finally, season with some olive oil and lime juice, mix well, and that's it! Very easy, very tasty.