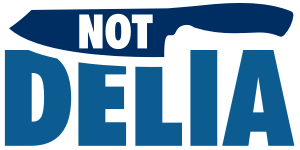 Hi, folks, this is just to let you know that Not Delia is almost a year old now and we have some big changes ahead.
The site's current look is based on a free WordPress template, which served us well for a while. But I think we've outgrown it now. We've also outgrown the site's navigation system and it's getting harder to find things on the Not Delia site now – even I have problems with it.
I decided to go for a complete overhaul before the site turns into a complete monster (or dog's dinner, which is how a friend described one of my other websites).
I got Mark Ballantyne of Eagle Imagery to design a new logo which will be the basis for our new look. I'm really pleased with it as I think it accurately portrays Not Delia's image – it's not exactly soft and cuddly. LOL! Also, regular readers here will know that I'm a bit of a knife freak. Poor Mark had lectures almost every day from me about the construction and purpose of various types of knife. But he's very patient and I would recommend Mark and Eagle Imagery to anyone. I love the new logo!
I expect we'll implement the changes bit by bit, rather than just flicking a switch. I just wanted to let our regulars know that things are changing!