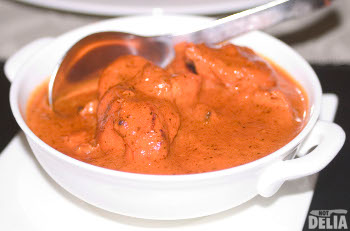 155/1-2 Soi 11/1 Sukhumvit
BANGKOK 10110
Mrs Balbir's restaurant and cookery school, specialising in Punjabi cuisine, is known as one of Bangkok's top Indian eateries. You can read more about her on her website. We'd noticed that she'd moved premises to a more modern and upmarket-looking place so we decided to give the new place a try. Here's how we got on.
When you get inside, the first thing you notice is that it's absolutely not your typical cosy British curry house. It's stylish and brightly lit, with light-coloured walls, big windows (a bit disconcerting to be on full display to the street), just a smattering of Indian artefacts and not a scrap of flock wallpaper in sight. The music wasn't remotely Punjabi either, although that could have been the time of year – we were treated to cover versions of Christmas pop and carols instead. Ho hum.
Two papadums came first – with all the familiar accompaniments (pink onions, mango chutney, lime pickle and that green stuff you always get with papadums). They were pretty much what you'd expect of a decent papadum – crispy and peppery.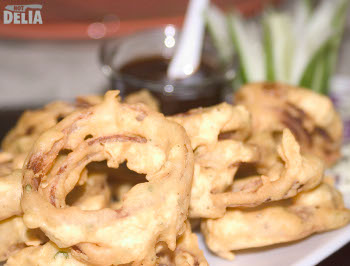 We ordered some onion bhajis to nibble while we waited for the two main dishes we'd ordered to arrive. To our surprise the bhajis we were served looked more like onion rings with gram flour batter rather than the balls we're used to. They were enjoyable, though.
Then when the waiter brought our mains he took our remaining papadum away! We'd barely started it. OK, they were free, but still… Seeing and hearing our disappointment, another waiter brought us a fresh one.
In the meantime our butter chicken arrived. The chicken was a bit dry (presumably they used breast rather than leg), though the sauce was tasty if rather more tomatoey than we're used to. You can see it in the photo at the top.
The lamb tikka was very nicely cooked and attractively presented with a garnish of spiced onion salad and an onion lamp, which all came served on a steel platter on top of a small copper brazier.
To accompany we had two naan – a butter naan first, then when it became clear we were going to run out of that we ordered a garlic naan to follow up. Both were fine.
I've already mentioned that the place had a not particularly cosy atmosphere. That also stretched to the physical temperature of the place – it was freezing cold. The only other customers – two British guys – were happy for us to ask for the a/c to be turned down.
Overall rating: somewhere between 3½ and 4 out of 5
The food was pretty good and probably as good a Punjabi-style curry as we've had outside the UK – including in India. The only really off-putting things were the temperature and the large windows. Who can feel truly comfortable getting their fingers messy in butter chicken gravy while they're on full view to people in the street?