17 Soi 11
Sukhumvit Road
BANGKOK 10110
We were in Bangkok and in the mood for pizza. It would have been very easy for us to go back to Contrazi yet again, but we thought that it would be a bit of a shame to do that when there was another Italian restaurant almost immediately behind it. And we'd passed the sign for Limoncello so many times without eating there that it was about time we went and had a look.
Limoncello's in a relatively old building down an alley between Contrazi and Tower III of the Grand President serviced apartments. We were pleased to see that they had outdoor seating, which meant I could enjoy my customary fag after eating without having to stand outside by an ashtray. Unfortunately, as we discovered, the downside was that we were constantly lit up by the headlights of the cars coming in and parking just yards away – it was a little bit like sitting and eating dinner in a car park. The staff did appear to be quite keen to encourage non-smokers to sit inside, so they're clearly aware that it's not the most comfortable experience.
We weren't ravenously hungry, so we decided to order a pizza and a salad between us. We also ordered a bottle of red wine. Our initial choice, a full-bodied red, was priced at about 1,300 baht. I asked the (Italian) waiter whether it was a good one. He advised me to try another one further down the list – but I spotted that it was a light-bodied one. In the end we settled on a 2007 Sant' Antimo Casanova di Neri. It was very nice, with a full body and velvety texture, and light cedar notes. But then again, at 1,900 baht (about £40), so it should have been!
We were offered water and, as usual, asked for plain water out of a jug. That wasn't available, and we were offered "mineral" water instead. It turned out that the water being offered was Nestle's locally produced Mineré brand, rather than an expensive imported brand like San Pellegrino. Dear enough, though, at 30 baht (60p), when many other places in Bangkok – ranging from five-star hotels to humble little cafés – are quite happy to give you water out of the jug.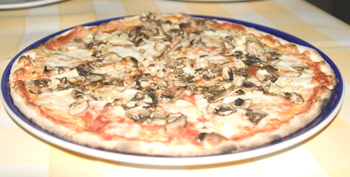 Our pizza with mushrooms and artichoke was fairly enjoyable. Sadly, although there were plenty of mushrooms, there wasn't too much evidence of artichoke. The tomato sauce on the base was very tomatoey, almost like baked bean sauce – though that may have been the influence of the base, which tasted very buttery (Mr ND reckoned the edge bits tasted like buttered toast).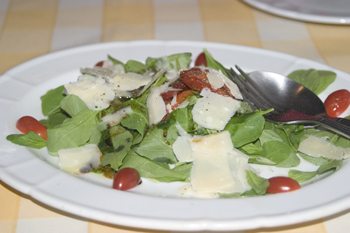 The rocket leaf salad came with sun-dried and cherry tomatoes, balsamic vinegar and shavings of Parmesan cheese. Again, it was enjoyable enough, although the sun-dried tomatoes were quite tart.
The following evening we met up with a pal of ours who shares our tastes and standards and who by coincidence had also eaten at Limoncello with his family at the same time as us. He'd had a less enjoyable experience; the aubergine parmigiano tasted as if it was several days old, and he'd had to send back a pasta dish because the clams were past their best. The staff had promptly and cheerfully brought a replacement for the pasta, but he was left with the impression that they were inclined to use up left-over portions on people with children, early diners, or people who were less elegantly dressed. He'd eaten there on other occasions, later in the evening, and thoroughly enjoyed his meals.
Overall rating: 3 out of 5
It wasn't bad, and the service was friendly enough though a bit chaotic at times. But we wouldn't walk past Contrazi to get to Limoncello in future – the food's better and more imaginative at Contrazi, the staff are good-humoured and efficient, and the prices aren't that much higher.