19 Sukhumvit Soi 11
Wattana
Bangkok 10110
[Update 2011 – sadly this place has closed down now.  What a pity as we're missing it already.]
This is a nice, relatively upmarket, Italian restaurant situated in a convenient location for plenty of expat and tourist destinations in Sukhumvit, Bangkok. We'd walked past it a few times and liked the look of it so we decided to go in. Sometimes it's easier to stick to the tried and tested but you've gotta try new things too sometimes. We weren't disappointed by this one!
The menu looked great with lots of variety. Mr Not Delia and I decided to share three appetisers rather than having a meal each. These were beautifully presented and came on rather large plates. We needed to move to a different table to accommodate them as our first table was a little bit too small. The staff were very cheerful and friendly about that, nothing was any bother for them. The food was excellent, but in a way it was the staff who made it a really good dining experience. They were there if you needed anything but they weren't fussy or over-attentive. I'd give the staff top marks! And Mr ND gave them a nice tip.
Here's a sample of the menu: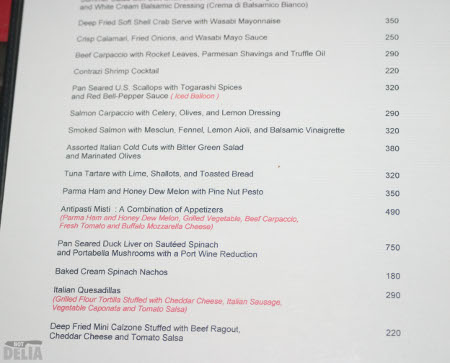 The only criticism we had of the place was that the lighting was a little bit poor. It was too low and that made it very difficult to get good photos, but we had a go anyway.
We had the antipasti misti (pictured in the top photo and mentioned in the menu extract), the baked cream spinach and the organic salad with grilled Portobello mushrooms, Gorgonzola and walnut vinaigrette, and all were really good. So good, in fact, that I asked the waiter about the chef. "Is the chef Italian?" I enquired. "No. He's Thai, but he worked in a five star hotel before." Ah. That explains it. That guy knows how to cook! The presentation of the dishes was faultless too. We even managed to clean our plates, which is a little bit unusual for us as we often over-order or find something isn't quite to our taste.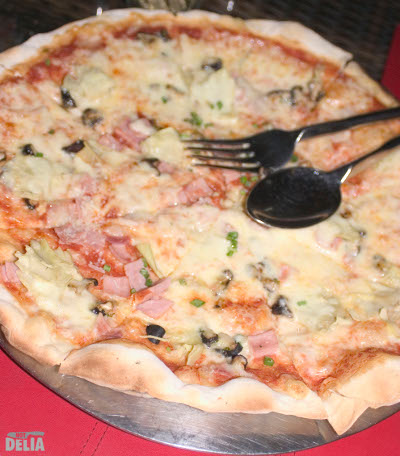 We liked this place so much that we went back a couple of nights later for a pizza. (Yeah, I know – tried and tested again.) The pizza was delicious too. We had the capricciosa – ham, artichokes and mushrooms.
There's a decent wine list. The wines aren't cheap, starting at about £15 a bottle, but then wine is expensive everywhere in Thailand. We had a Chilean Sauv Blanc on the first evening and a Cab Sauv the second time round (both about £20 a bottle), and thoroughly enjoyed them both.
Overall rating: 4½ out of 5
It wasn't cheap but there was good value for money. The food was terrific and the staff were excellent. I would highly recommend this place and would go back any time I had the chance.