241 Sisowath Quay (corner of Street 144)
Phnom Penh
It was the evening of our last day on a recent visit to Phnom Penh. We were getting hungry and feeling uninspired. Out of desperation, Mr Not Delia suggested we revisit La Croisette.
We'd been once several years earlier, and reviewed it briefly for BritishExpat.com. In those days it was much more in the character of a café/bar serving sandwiches and shakes as well as more substantial meals. However, five or six years down the track it had changed substantially, as we were to discover.
The first big change was that it now appeared to be much more of a bistro-style restaurant than before. The second was that the French/North African cuisine had gone, to be replaced with Italian food – above all, pizza and pasta.
Although most places in Cambodia seem to allow smoking indoors, we chose to sit outside (as we generally do unless it's teeming down with rain). It was fairly busy, but we managed to get a table for two without too much fuss – at the side of the restaurant in Street 144, rather than at the front besides the crowded pavement. This was good as you can guarantee that sooner or later you'll be pestered by hawkers or beggars if you sit out front.
We ordered a rocket salad and antipasto platter to start with. We were rather taken aback when the salad arrived as it consisted of a huge bed of rocket leaves, about twice as much as we'd bargained for. As you see, it was topped off with a few large shavings of Parmesan and some halved black olives, and surrounded with a few cherry tomatoes. Not terribly artistically presented, but plenty enough to see us through to the main course. (And beyond.)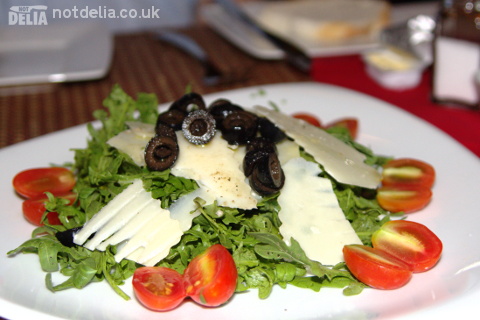 The antipasto platter was a let-down. The ham and pickles were OK, but the salami was sliced decidedly on the thick side, and they'd given us some slabs of mortadella too. (With very few exceptions, I hate meat that isn't recognisable as meat. Mortadella-type ground-up meat is almost the worst thing I can imagine in the meat line – it's barely a step up from the infamous pink slime.) For some reason both the mortadella and the cheese were crinkle-cut, which added to the processed appearance. Again, a "fail" on presentation.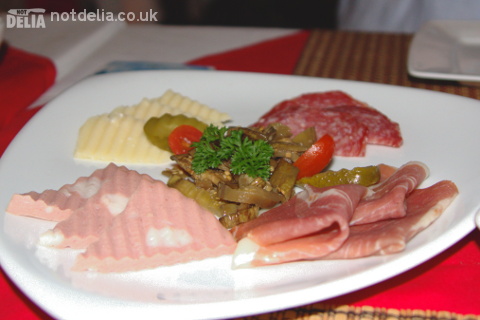 However, the pizza redeemed matters. We'd ordered a Quattro Stagioni. Although it wasn't presented in the traditional way – all the ingredients had been distributed evenly across the pizza rather than in the usual four quarters – it was tasty, generously topped and cooked to perfection. Very nice indeed…
…but surpassed by the green gnocchi with Gorgonzola and rocket sauce, one of the home-made specials billed on their blackboard. They were beautifully creamy, and we scoffed them all up between us.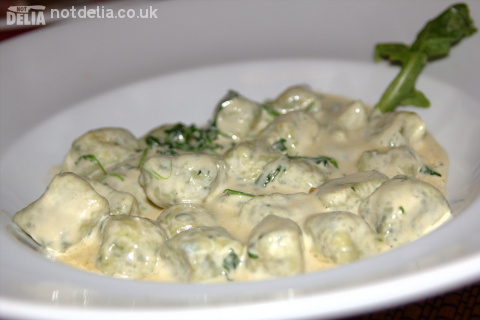 The whole lot was washed down with a very nice Sicilian Nero d'Avola.
With the size of the pizza and salad, we found that we'd over-ordered. Pizza's easy to pack for taking away, as is salad, and the staff were happy to do that for us.
Overall verdict: 3½ out of 5
OK, so the presentation was a bit ropey at times. But it's generally very good food, with friendly and helpful staff and a pleasant atmosphere. We'd be happy to go back again.