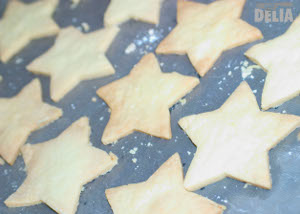 Sablés are a type of French biscuit which can be either sweet or savoury. They're very light and crisp but can be a wee bit of a faff to make. For a quick and easy alternative I use Darina Allen's recipe (Ballymaloe Cookery Course, page 461) for Jane's Biscuits. This is a much easier alternative – the only difficulty is trying to stop people snaffling them when they're left to cool.
Ingredients
(makes 25)
175g (6 oz) white flour
110g (4 oz) butter
50g (2 oz) caster sugar
Method
Preheat the oven to 180°C/350°F/Gas Mark 4.
Put the flour and sugar into a bowl and rub in the butter (by hand or – as I did – using a food processor) as for shortcrust pastry.
Gather the mixture together and knead it lightly.
Roll out to 7mm (¼ in) thick.
Cut into rounds with a 6cm (2½ in) cutter or into heart shapes.
Arrange on silicone paper on a baking tray and bake in the moderate oven until pale brown, 10-15 minutes. (I didn't have silicone paper but I do have something else that does the same job, made out of glass fibre and Teflon – you can see it in the two photos.)
Remove and cool on a rack. Serve with fruit fools, compotes and ice creams.
Here's a pic of mine before I put them in the oven. As you can see, I made mine in star shapes (and managed to get 18 biscuits out of the mixture).