Gozitan Capers from the Café Jubilee Shop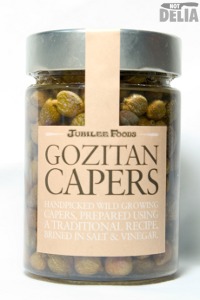 I wasn't really a big fan of capers. I mean, sure, you add them into tartar sauce and things like that but otherwise I could take 'em or leave 'em. A jar of capers can lurk in the fridge for an eternity before they all get used or, more likely, chucked out because they're past their best.
Then I discovered Gozitan capers!
These are in a league of their own. They actually make capers desirable for their own sake. We bought a jar a couple of weeks ago and it's almost finished already. So what's so special about them? The taste, I guess, and the texture, and everything really. Gozo is an incredible place for wild plants. During our stay there we saw thyme, rocket, and many other things just growing wild by the roadside.
The Café Jubilee (great food there, by the way) has a little shop next door which sells local produce, so we bought ours there. You can see them in the photo above. These are "hand picked, wild growing capers, prepared using a traditional recipe, brined in salt and vinegar". They're made in Gozo by Jubilee Foods Ltd.
You can add them to salads, or serve them along with a platter of cheese and charcuterie, but the very best use for them I"ve found is along with a slice of crusty brown bread and butter with a couple of slices of top quality smoked salmon. Mmmm, heaven.
If you've never given much thought about capers before – and I don't blame you – do keep your eyes peeled for Gozitan capers. They're grrrreat!