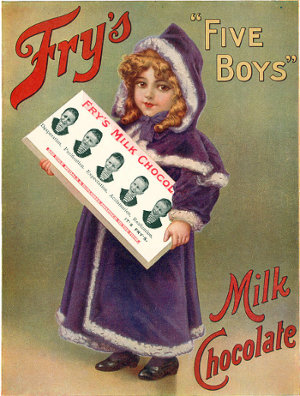 The very first chocolate I remember eating was Five Boys. My Granny used to give me 3d (1¼p) to buy a bar from a vending machine outside the local grocery store. I liked the chocolate, of course, but it was also a great novelty to drop the threepenny piece into the slot and crank the round handle and get a choccie bar out of the bottom of the machine. I would just like to point out that this was some time after the launch of Five Boys in 1902!
See Cadbury's Yesterday page. Cadbury's and Fry's merged in 1919 so you'll see some of your old favourites by Fry's (like Five Boys) on there too.
Launched in 1902 [Five Boys] was once the most famous chocolate bar in the world, with its five pictures of a five-year-old lad called Lindsay Poulton showing emotions from Desperation (no chocolate), to Realisation (finding out he's got Fry's Chocolate). Apparently at the photo session, Lindsay wasn't looking miserable enough for the first photo, so his father (the photographer) tied a cloth soaked in nasty smelling ammonia round his neck to achieve the 'Desperation' face! The bar was retired in 1976.
Ooh, I found all of my old favourites which are now long gone on the Yesterday page, including Aztec, Toffee Buttons and Skippy.
Have a look and see if it brings back any memories for you!  What are your first memories of eating chocolate? Please do write in and tell us. You can use the comment form below.
By the way, if this has whetted your appetite for childhood favourites, A Quarter Of… is probably the best retro sweet shop on the Web. They have lots of old favourites, and maybe some of the others that we've missed. Have a look anyway and enjoy your trip down memory lane. (They can deliver to most countries but not the USA or Canada because of legal restrictions. The info is all included on their website.)