Beef and Guinness Pie – photo essay
Here's my photo essay of how to cook beef and Guinness pie according to Margaret Johnson's recipe.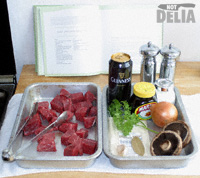 1. Ingredients assembled.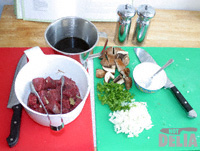 2. Ingredients prepped and ready to go.
The book tells you how to make pastry, but I'm not in the mood for that today. Yes, I can make pastry – but sometimes it's just easier to buy it ready made.
Mr ND has naffed off with the Guinness so it's not in there yet. When I manage to catch up with him I'll throw some Guinness into the stock.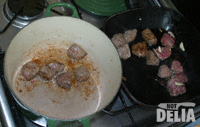 3. Don't follow the book's instructions to bung everything in. You'll end up boiling the meat and it won't be nice. First, you should seal the meat by frying it in very hot oil. This process browns the meat and it starts to make its own tasty gravy too. After you've sealed it, you can proceed to make your stew or pie filling. If you chuck it all in, meat and liquid together at once, it'll boil and you'll get grey, tasteless, and stringy lumps of meat. Don't do it. I just don't understand why a cookbook would tell people to do this. Crikey. I might as well set up in business as a driving instructor. I'd be at least as good at that as these people are at cooking.
What's the pedal in the middle for?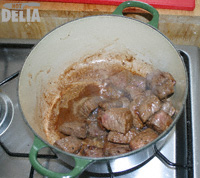 4. Here's a photo of the browned meat simmering in its own gravy. Much tastier this way, yes?
[Update – I should've said that I'd added the Marmite stock, after this stage. This goes in hot.]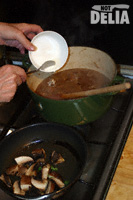 5. The meat has been simmering for a couple of hours so now I'll add a couple of sautéed mushrooms. I've managed to get some Guinness from Mr ND so I'll add a splash of that too. (OK, I cheated and added red wine earlier. C'mon, recipes are only ideas. You don't need to obey orders. 🙂 ) Meanwhile, I've got the oven on and the pastry is ready to go.
I've mixed up a bit of cornflour with a little bit of water and am mixing it into the gravy to thicken it. It's not how I would usually make this – it's maybe better to throw a handful of plain flour into the pot after you've browned the meat and cook for a couple of minutes. I'm just trying to follow the recipe here, even if I don't agree with a lot of the instructions. Mr ND is getting ratty. He wants to eat the food and stop faffing about with the photos. No pressure. We'll proceed.
One teaspoon of cornflour isn't enough to thicken it. I have to add more. And yet more. It would've been much more sensible to season and thicken as we went along. I don't really like American cooking – a lot of it is about packets of this and powders of that. It's best just to do things properly and the taste will be better too.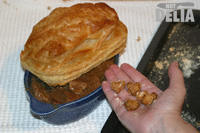 6. Here's the pie. Not bad, eh? I've decorated it with little pastry hearts because it was made with love. LOL!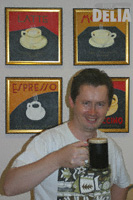 7. Oh, sh.., I forgot to put the Guinness in – but it won't go to waste. Here's Mr ND enjoying the Guinness. No problem, I manage to grab what's left in the can and splash a bit into the pie filling. Delicious! You don't want to put too much Guinness in anyway as it's a very bitter drink. I love it! But it's not to everyone's taste and you need to go a bit easy on it if you're putting it in food.
So, golly gee, Elmer. Buy a packet of home-made beef pie with Guinness today. Yawn.
If you're interested in reading my review of this cookbook, please see The Irish Pub Cookbook – Margaret Johnson