Banana Colada – a recipe for a quick and easy cocktail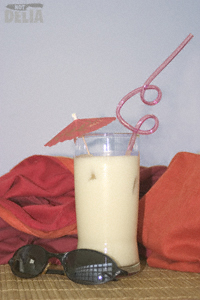 With the onset of winter in the northern hemisphere, I thought I'd try to bring a little sunshine into your lives with a summery cocktail recipe for a banana colada.
This is like a piña colada with banana in it. It's nice for a change and probably more healthy because of the banana, but I think I'll probably stick to the original piña colada in future. Here's a recipe for it anyway, if you fancy trying a banana colada.
Ingredients
30 ml white rum
30 ml coconut cream
30 ml sugar syrup
30 ml fresh cream
120 ml pineapple juice
½ banana
ice
Method
Pour all the ingredients plus the ice into a blender, blitz, and then pour into a serving glass. You can garnish it with pineapple or whatever else suitable you can lay your hands on.
A blender is an essential piece of kit if you like making cocktails and smoothies. I use a Hamilton Beach Blendmaster which I bought donkeys' years ago, but even after eight years of regular use it's as good as new. The Hamilton Beach range of blenders aren't particularly cheap because they're designed for commercial use. Here's a photo of it.
Nisbets do a wide range of blenders starting at £21.99 (for domestic use) up to quite a lot more for a professional top-of-the-range one. Here's a link to their cheapest one, but you could also browse their range if you fancy splashing out a bit more.
Kenwood 1 litre blender from Nisbets catering equipment