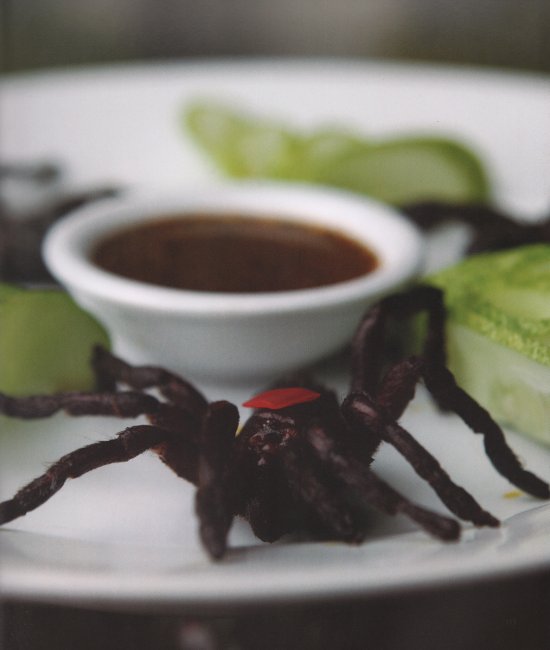 Well, hello. It's Day 20 on the Not Delia chocolate fest and there are still plenty of chocolatey treats to go but I'm starting to feel as though I'd like to go off and start something new again. However, the show must go on. Today, we can look at some weird chocolate-covered things – creepy-crawlies.
I'm sure you've all heard of chocolate ants and chocolate-covered grasshoppers. I've never tried either, although I have eaten ants with garlic and chilli. They're delicious if you like garlic and chilli. And I also tried eating a grasshopper once.  I nearly choked on it because no one thought to tell me you're supposed to peel the darned thing first.
Anyway, we were in Phnom Penh recently and discovered that tarantulas are considered to be a delicacy in Cambodia. OK, I'll come clean and tell you that I didn't try one – even I probably couldn't drink enough beers to get to the state of mind when I thought that eating big spiders was a good idea. However, I did get a recipe for how to cook and eat some tasty tarantulas.
And what has this got to do with chocolate? Erm, not a lot really but I'm allowed the occasional day off and I suppose if you get a taste for tarantulas, you could always dip 'em in chocolate if you fancy it.
And now here's the recipe:
Crispy Tarantulas with Lime and Kampot Black Pepper Dip
(serves 4)
Ingredients
12 fresh tarantulas [by "fresh" they mean "live"]
2 tbsp white sugar
1 tsp salt
8 garlic cloves, minced
Sunflower oil for deep frying
For dip:
4 tbsp fresh lime juice
1 tbsp Kampot black pepper, or substitute ordinary
Pinch of salt
Pinch of sugar
Red chillies and cucumber flowers, for garnish
Method
To make dip, mix all ingredients and set aside.
Kill tarantulas by pressing hard on their body and then remove fangs. [Don't ask me how!]  Wash them thoroughly. Combine sugar and salt in a little water and marinate spiders in mixture for 20 minutes. Heat sunflower oil and fry garlic until crispy. Remove garlic and set aside. In same oil, fry spiders on very high heat for 1 minute, or until crispy. Place tarantulas on a plate and top with crispy garlic. Garnish with chillies and cucumber flowers, and serve with dip on the side.
I don't know if I'll be trying this recipe any time soon. If you do it, please write in!
On a more serious note, this recipe comes from a Friends-International cookbook. Friends is a not-for-profit organisation set up to help disadvantaged young people in Cambodia.  Friends opened its first training restaurant in 2001 in Phnom Penh, and they now have several training restaurants where young people gain valuable work experience and go on to find employment in well-known restaurants after they've completed their training.
We had lunch at one of their restaurants (review coming soon) and were hugely impressed by the standard and quality of food and service. I confess, though, we didn't have any spiders.