Sukhumvit Road (near Soi 7: BTS Nana)
Bangkok 10110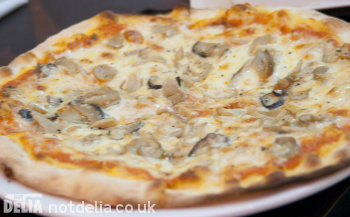 We thought we'd try somewhere other than our usual haunts. We didn't have great hopes for Pomodoro but we fancied pasta and pizza without having to stray too far from our hotel room. The restaurant table was a wee bit small but the place wasn't busy and the waitress shoved over another table to give us a bit more space to stretch out in, which was very nice of her, especially since we hadn't asked for it.
We ordered a Chilean Cabernet Sauvignon, a P.K.N.T Gold Cabernet Sauvignon Reserve 2009 from the Valle Central, which was imported by a company called Wine Not Ltd(!) and according to its description on the wine list was supposed to have blackberry, mint, and chocolate notes. It was served in nice big glasses. It was very pleasant – I don't know about the mint or chocolate but it definitely had a berry nose and taste and was quite flinty on the palate too. I would be happy to get that again.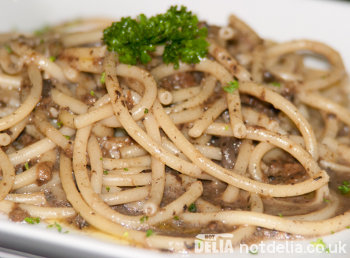 We ordered a Caesar salad, bucatini with mushrooms and a truffle sauce, and a mushroom pizza. The pizza was reasonably thin but rather bland and so Mr ND  put chilli flakes on his to try to liven it up a bit. The anchovies pervaded the salad a bit too much and I wouldn't get them again. The pasta was a bit bland again, nothing greatly wrong with it but the pasta itself was rather thick and chewy and substantial and too much for the sauce.
The food is reasonable value for the price they're charging, the wine was pleasant, and probably quite reasonably priced for Bangkok as well. The staff were friendly and efficient. They have some tables outside, as well as their indoor air-conditioned area, so the upside if that you can smoke if you want to and the downside is that you have to put up with the roar of traffic. Take your pick!
Overall rating from me: 2½ out of 5.  Mr ND reckoned 2½-3.