Modern Toilet – a shit dining concept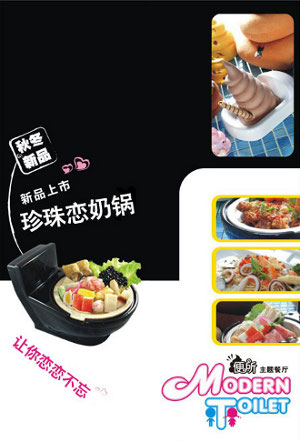 At first I thought that Modern Toilet was just a one-off "Made in Taiwan" novelty restaurant, but there's a whole chain of them! You can order meals that look like turds while you're sitting on the bog. Gross? Yes. Weird? Definitely. You might not believe me, but you can "go pee-pee or go poo-poo" at this restaurant. (Strapline: "Top new creative idea from toilet and shits".)
Not only that, but it's spread beyond Taiwan. Hong Kong has two branches, and plans are reportedly afoot to open more in mainland China, Macau, Japan and Malaysia.
Apparently the owner – a Taiwanese banker called Wang Zi-wei – came up with the concept while reading an issue of Japanese manga comic book Dr Slump, which features a robot who likes to swirl pooh on a stick. (Hmm. I'm sure this isn't what A.A. Milne had in mind when he wrote about poohsticks.)
So Mr Wang started selling curled-out chocolate ice-cream in paper "squatter" toilet bowls. The idea proved so successful that he decided to open a full-scale restaurant in Taiwan's second city, Kaohsiung, and never looked back.
I'm not often lost for words but this one has to be seen to be believed.  You can check it out at their own website.
Don't expect a restaurant review of this place any time soon.
I'd love to hear your comments so please post them below.