I always like to wear decent footwear in the kitchen to protect my feet in case of any accidents, such as boiling oil dripping on them or perhaps a heavy pan falling. It pays to play safe. There are some things I wouldn't normally buy online, such as footwear or bras, because a comfortable fit is so important. However, since I couldn't find what I wanted locally, I decided to give Nisbets a go.
Regular readers of Not Delia will know that I'm a big fan of Nisbets. I guess most people think of them as being primarily a catering equipment company, but they sell lots of things to individuals too and have a wide range of chefs' clothing and footwear.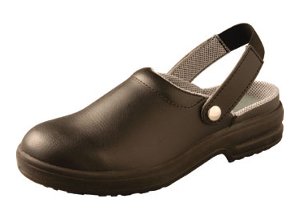 I decided to go for the black unisex safety clogs at £25.99. These have several additional safety and comfort features:
200-joule plastic coated protective toe cap
Cotton fibre lined
Removable back strap
When they arrived (promptly!) I felt like Cinderella as I tentatively slipped my feet into them. Voilà! They fitted. I've had them for about a month now and am still chuffed to bits with them. I'd recommend them to anyone who is serious in the kitchen, and when the time comes I'd buy another pair exactly the same.
If you'd like a pair of these too, click on the Nisbets banner below. Check out some of their other kit too while you're there, they do aprons, T-shirts and all sorts of cheffy attire.
(UK delivery only)
Nisbets only deliver within the UK. If you live outside the UK, or want to shop around first, why not have a look at Not Delia's Amazon Cook Shops instead?
Not Delia's Cook Shop: UK and EU (prices in £)
Not Delia's Cook Shop: non-EU (prices in US $)