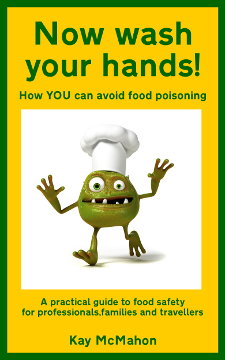 The food hygiene course which we orginally published on Not Delia has been updated and rewritten. It's now published as a Kindle eBook on Amazon.
Broadly covering the same ground as the Royal Society for the Promotion of Health's Food Hygiene Certificate – a required qualification for all commercial food handlers in the UK – this short book covers the essential points of food safety:
the science of food poisoning: the main food poisoning bacteria, where they arise, how they thrive, how they poison food, and how to eliminate them
hygiene in the kitchen: how to store and handle food safely, both raw and cooked
personal hygiene: why hand washing is so important in preventing transmission of disease
pest control: how to keep vermin out of your kitchen, and what to do in case they get in anyway
kitchen layout and design: sensible workspace planning to avoid food contamination
kitchen cleaning: how to stop your work surfaces, equipment and storage areas from becoming a haven for germs
If you would like to purchase the eBook, you can do so using one of the links on the right!
Not got a Kindle?
Don't worry, you don't need one. There are several Kindle reader programs, plugins and apps available at Amazon that cover most computers and smartphones.